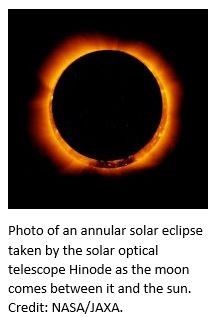 In addition to the total solar eclipse that will occur on April 8, 2024, another unusual solar event is coming up. On Saturday, Oct. 14, 2023, Missouri will experience an annular solar eclipse.
NASA's website states: "An annular solar eclipse happens when the Moon passes between the Sun and Earth while it is at its farthest point from Earth. Because the Moon is farther away from Earth, it appears smaller than the Sun and does not completely cover the star. This creates a 'ring of fire' effect in the sky." This phenomenon is shown in the image to the left. 
While this type of eclipse happens every one or two years, it has crossed over North America just three times since 2001 and and will not return to our continent again until 2039.
In Missouri, the portion of the sun covered by the moon will range from 50% to 70% as the eclipse passes diagonally across the state. As shown on the map below, Missouri state parks and state historic sites on the northwestern border and in the southwestern lower quadrant of the state will experience the best views of this rare event. Check out our annular eclipse table for precise data for each facility.
Important Safety Information: It is never safe to look directly at the sun without specialized eye protection designed for solar viewing, such as eclipse glasses. Because the sun is never completely blocked during an annular eclipse, it is unsafe to remove your eclipse glasses at any point during this type of eclipse. Click here for more information on how to view the eclipse safely.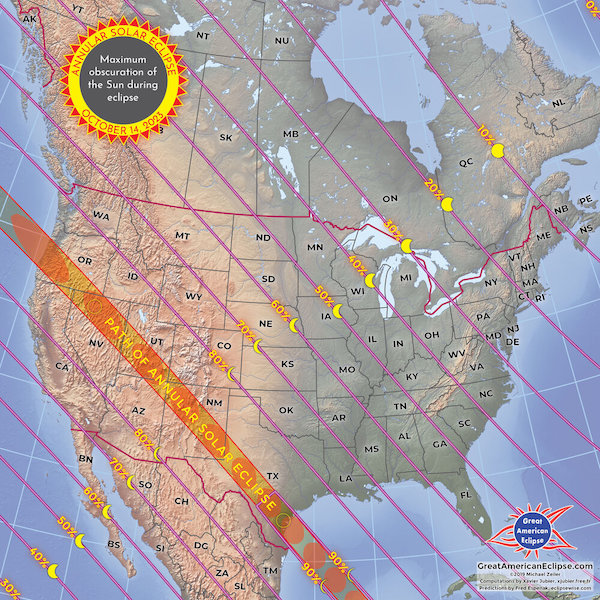 Make Your Reservation Now to Stay Overnight During the Eclipse
Camping reservations can be made from 12 months up to 7 p.m. the day of arrival. Click "Reserve" in the table below or call 877-ICampMO (877-422-6766) to check for availability of campsites and lodging units.
| | | | | | |
| --- | --- | --- | --- | --- | --- |
| Facility Name | Camping | Lodging | Obscuration | Eclipse Begins | Maximum Eclipse |
| Arrow Rock State Historic Site, Arrow Rock | Reserve |   | 67.4% | 10:27:50 a.m. | 11:52:28 a.m. |
| Dr. Edmund A. Babler Memorial State Park, Wildwood | Reserve |   | 64.6% | 10:31:18 a.m. | 11:56:18 a.m. |
| Sam A. Baker State Park, Patterson | Reserve | Reserve | 66.9% | 10:31:25 a.m. | 11:57:49 a.m. |
| Battle of Athens State Historic Site, Revere |   |   | 62.7% | 10:30:05 a.m. | 11:53:12 a.m. |
| Battle of Carthage State Historic Site, Carthage |   |   | 73.3% | 10:25:44 a.m. | 11:52:06 a.m. |
| Battle of Island Mound State Historic Site, Butler |   |   | 71.2% | 10:25:45 a.m. | 11:51:08 a.m. |
| Battle of Lexington State Historic Site, Lexington |   |   | 68.7% | 10:26:30 a.m. | 11:51:03 a.m. |
| Battle of Pilot Knob State Historic Site, Pilot Knob |   |   | 66.2% | 10:31:16 a.m. | 11:57:15 a.m. |
| Bennett Spring State Park, Lebanon | Reserve | Reserve | 69.6% | 10:28:06 a.m. | 11:54:05 a.m. |
| Thomas Hart Benton Home and Studio State Historic Site, Kansas City |   |   | 69.9% | 10:25:32 a.m. | 11:50:07 a.m. |
| Big Lake State Park, Craig | Reserve | Reserve | 69.1% | 10:24:37 a.m. | 11:48:11 a.m. |
| Big Oak Tree State Park, East Prairie |   |   | 65.6% | 10:33:22 a.m. | 12:00:05 p.m. |
| Big Sugar Creek State Park, Pineville |   |   | 74.5% | 10:25:40 a.m. | 11:52:32 a.m. |
| Bollinger Mill State Historic Site, Burfordville |   |   | 65.3% | 10:32:39 a.m. | 11:58:49 a.m. |
| Nathan and Olive Boone Homestead State Historic Site, Ash Grove |   |   | 71.8% | 10:26:46 a.m. | 11:53:03 a.m. |
| Boone's Lick State Historic Site, Boonesboro |   |   | 67.2% | 10:27:59 a.m. | 11:52:37 a.m. |
| Bothwell Lodge State Historic Site, Sedalia |   |   | 68.6% | 10:27:21 a.m. | 11:52:21 a.m. |
| Bryant Creek State Park, Ava |   |   | 70.9% | 10:28:08 a.m. | 11:54:47 a.m. |
| Castlewood State Park, Ballwin |   |   | 64.3% | 10:31:30 a.m. | 11:56:29 a.m. |
| Clark's Hill/Norton State Historic Site, Osage City |   |   | 67.0% | 10:29:07 a.m. | 11:54:16 a.m. |
| Confederate Memorial State Historic Site, Higginsville |   |   | 68.7% | 10:26:41 a.m. | 11:51:21 a.m. |
| Edward "Ted" and Pat Jones-Confluence Point State Park, West Alton |   |   | 63.3% | 10:32:05 a.m. | 11:56:44 a.m. |
| Crowder State Park, Trenton | Reserve |   | 66.6% | 10:27:03 a.m. | 11:50:43 a.m. |
| Cuivre River State Park, Troy | Reserve |   | 64.4% | 10:30:52 a.m. | 11:55:30 a.m. |
| Current River State Park, Salem |   |   | 68.2% | 10:30:02 a.m. | 11:56:23 a.m. |
| Deutschheim State Historic Site, Hermann |   |   | 65.6% | 10:30:06 a.m. | 11:55:02 a.m. |
| Dillard Mill State Historic Site, Davisville |   |   | 66.8% | 10:30:24 a.m. | 11:56:14 a.m. |
| Gov. Daniel Dunklin's Grave State Historic Site, Herculaneum |   |   | 64.7% | 10:31:43 a.m. | 11:57:02 a.m. |
| Echo Bluff State Park, Eminence | Reserve | Reserve | 68.2% | 10:30:02 a.m. | 11:56:23 a.m. |
| Elephant Rocks State Park, Belleview |   |   | 66.3% | 10:31:07 a.m. | 11:57:02 a.m. |
| Finger Lakes State Park, Columbia | Reserve |   | 66.4% | 10:28:44 a.m. | 11:53:23 a.m. |
| First Missouri State Capitol State Historic Site, St. Charles |   |   | 63.9% | 10:31:38 a.m. | 11:56:25 a.m. |
| Graham Cave State Park, Danville | Reserve |   | 65.4% | 10:29:58 a.m. | 11:54:42 a.m. |
| Grand Gulf State Park, Thayer |   |   | 69.8% | 10:29:52 a.m. | 11:56:57 a.m. |
| Ha Ha Tonka State Park, Camdenton |   |   | 69.0% | 10:28:01 a.m. | 11:53:41 a.m. |
| Hawn State Park, Ste. Genevieve | Reserve |   | 65.0% | 10:32:01 a.m. | 11:57:40 a.m. |
| Hunter-Dawson State Historic Site, New Madrid |   |   | 66.2% | 10:33:08 a.m. | 12:00:04 p.m. |
| Iliniwek Village State Historic Site, Alexandria |   |   | 62.6% | 10:30:24 a.m. | 11:53:38 a.m. |
| Jefferson Landing State Historic Site/Missouri State Museum, Jefferson City |   |   | 67.1% | 10:28:55 a.m. | 11:54:02 a.m. |
| Jewell Cemetery State Historic Site, Columbia |   |   | 66.6% | 10:28:45 a.m. | 11:53:29 a.m. |
| Johnson's Shut-Ins State Park, Middle Brook |   |   | 66.2% | 10:31:16 a.m. | 11:57:12 a.m. |
| Scott Joplin House State Historic Site, St. Louis |   |   | 63.8% | 10:32:00 a.m. | 11:56:55 a.m. |
| Katy Trail State Park – Augusta Trailhead |   |   | 64.9% | 10:30:58 a.m. | 11:56:00 a.m. |
| Katy Trail State Park – Boonville Trailhead |   |   | 67.3% | 10:28:07 a.m. | 11:52:52 a.m. |
| Katy Trail State Park – Calhoun Trailhead  |   |   | 69.6% | 10:26:46 a.m. | 11:51:59 a.m. |
| Katy Trail State Park – Clifton City Trailhead |   |   | 68.1% | 10:27:39 a.m. | 11:52:35 a.m. |
| Katy Trail State Park – Clinton Trailhead |   |   | 70.1% | 10:26:32 a.m. | 11:51:50 a.m. |
| Katy Trail State Park – Dutzow Trailhead |   |   | 65.1% | 10:30:47 a.m. | 11:55:47 a.m. |
| Katy Trail State Park – Green Ridge Trailhead |   |   | 69.0% | 10:27:05 a.m. | 11:52:10 a.m. |
| Katy Trail State Park – Greens Bottom Trailhead |   |   | 63.9% | 10:31:38 a.m. | 11:56:25 a.m. |
| Katy Trail State Park – Hartsburg Trailhead |   |   | 66.9% | 10:28:32 a.m. | 11:53:21 a.m. |
| Katy Trail State Park – Marthasville Trailhead |   |   | 65.1% | 10:30:41 a.m. | 11:55:40 a.m. |
| Katy Trail State Park – Matson Trailhead |   |   | 64.7% | 10:31:06 a.m. | 11:56:05 a.m. |
| Katy Trail State Park – McBaine Trailhead |   |   | 66.9% | 10:28:32 a.m. | 11:53:21 a.m. |
| Katy Trail State Park – McKittrick Trailhead |   |   | 65.6% | 10:30:05 a.m. | 11:55:00 a.m. |
| Katy Trail State Park – Mokane Trailhead |   |   | 66.4% | 10:29:24 a.m. | 11:54:24 a.m. |
| Katy Trail State Park – New Franklin Trailhead |   |   | 67.2% | 10:28:08 a.m. | 11:52:49 a.m. |
| Katy Trail State Park – North Jefferson City Trailhead |   |   | 67.0% | 10:28:55 a.m. | 11:54:00 a.m. |
| Katy Trail State Park – Pilot Grove Trailhead |   |   | 67.7% | 10:27:51 a.m. | 11:52:41 a.m. |
| Katy Trail State Park – Portland Trailhead |   |   | 66.1% | 10:29:39 a.m. | 11:54:36 a.m. |
| Katy Trail State Park – Rocheport Trailhead  |   |   | 66.9% | 10:28:23 a.m. | 11:53:07 a.m. |
| Katy Trail State Park – St. Charles Trailhead |   |   | 63.9% | 10:31:38 a.m. | 11:56:25 a.m. |
| Katy Trail State Park – Sedalia Trailhead  |   |   | 68.6% | 10:27:21 a.m. | 11:52:21 a.m. |
| Katy Trail State Park – Tebbetts Trailhead |   |   | 66.6% | 10:29:16 a.m. | 11:54:19 a.m. |
| Katy Trail State Park – Treloar Trailhead |   |   | 65.3% | 10:30:29 a.m. | 11:55:28 a.m. |
| Katy Trail State Park – Weldon Spring Trailhead |   |   | 64.3% | 10:31:21 a.m. | 11:56:13 a.m. |
| Katy Trail State Park – Windsor Trailhead |   |   | 69.3% | 10:26:55 a.m. | 11:52:05 a.m. |
| Knob Noster State Park, Knob Noster |   |   | 69.0% | 10:26:53 a.m. | 11:51:50 a.m. |
| Lake of the Ozarks State Park, Kaiser | Reserve | Reserve | 68.6% | 10:28:15 a.m. | 11:53:48 a.m. |
| Lake Wappapello State Park, Williamsville | Reserve | Reserve | 65.6% | 10:29:42 a.m. | 11:54:27 a.m. |
| Lewis and Clark State Park, Rushville | Reserve |   | 69.8% | 10:24:57 a.m. | 11:49:06 a.m. |
| Locust Creek Covered Bridge State Historic Site, Meadville |   |   | 66.6% | 10:27:26 a.m. | 11:51:24 a.m. |
| Long Branch State Park, Macon | Reserve |   | 65.4% | 10:28:40 a.m. | 11:52:38 a.m. |
| Mastodon State Historic Site, Imperial |   |   | 64.5% | 10:31:46 a.m. | 11:56:58 a.m. |
| Meramec State Park, Sullivan | Reserve | Reserve | 66.0% | 10:30:28 a.m. | 11:55:54 a.m. |
| Missouri Mines State Historic Site, Park Hills |   |   | 65.6% | 10:31:29 a.m. | 11:57:13 a.m. |
| Montauk State Park, Salem | Reserve | Reserve | 68.5% | 10:29:20 a.m. | 11:55:29 a.m. |
| Morris State Park, Campbell |   |   | 67.3% | 10:32:13 a.m. | 11:59:17 a.m. |
| Onondaga Cave State Park, Leasburg | Reserve |   | 66.5% | 10:30:15 a.m. | 11:55:48 a.m. |
| Osage Village State Historic Site, Walker |   |   | 71.7% | 10:25:52 a.m. | 11:51:35 a.m. |
| Gen. John J. Pershing Boyhood Home State Historic Site, Laclede |   |   | 66.4% | 10:27:38 a.m. | 11:51:35 a.m. |
| Pershing State Park, Laclede | Reserve |   | 66.4% | 10:27:38 a.m. | 11:51:35 a.m. |
| Pomme de Terre State Park, Pittsburg | Reserve | Reserve | 70.3% | 10:27:11 a.m. | 11:53:01 a.m. |
| Prairie State Park, Mindenmines |   |   | 73.1% | 10:25:21 a.m. | 11:51:26 a.m. |
| Roaring River State Park, Cassville | Reserve | Reserve | 73.5% | 10:26:23 a.m. | 11:53:13 a.m. |
| Robertsville State Park, Robertsville | Reserve |   | 65.1% | 10:31:03 a.m. | 11:56:14 a.m. |
| Don Robinson State Park, Cedar Hill |   |   | 64.9% | 10:31:19 a.m. | 11:56:33 a.m. |
| Rock Bridge Memorial State Park, Columbia |   |   | 66.6% | 10:28:45 a.m. | 11:53:29 a.m. |
| Rock Island Trail State Park – Chilhowee Trailhead |   |   | 69.8% | 10:26:27 a.m. | 11:51:33 a.m. |
| Rock Island Trail State Park – Leeton Trailhead |   |   | 69.5% | 10:26:40 a.m. | 11:51:47 a.m. |
| Rock Island Trail State Park – Medford Trailhead |   |   | 69.9% | 10:26:14 a.m. | 11:51:16 a.m. |
| Rock Island Trail State Park – Pleasant Hill Trailhead |   |   | 70.1% | 10:25:53 a.m. | 11:50:47 a.m. |
| Rock Island Trail State Park – Windsor Trailhead |   |   | 69.3% | 10:26:55 a.m. | 11:52:05 a.m. |
| Route 66 State Park, Eureka |   |   | 64.7% | 10:31:20 a.m. | 11:56:25 a.m. |
| St. Francois State Park, Bonne Terre | Reserve |   | 65.6% | 10:31:26 a.m. | 11:57:06 a.m. |
| St. Joe State Park, Park Hills | Reserve |   | 65.6% | 10:31:29 a.m. | 11:57:13 a.m. |
| Sandy Creek Covered Bridge State Historic Site, Hillsboro |   |   | 65.0% | 10:31:26 a.m. | 11:56:47 a.m. |
| Sappington African American Cemetery State Historic Site, Arrow Rock |   |   | 67.7% | 10:27:42 a.m. | 11:52:25 a.m. |
| Sappington Cemetery State Historic Site, Arrow Rock |   |   | 67.7% | 10:27:42 a.m. | 11:52:25 a.m. |
| Shepherd of the Hills State Park, Branson |   |   | 72.0% | 10:27:13 a.m. | 11:54:05 a.m. |
| Stockton State Park, Dadeville | Reserve | Reserve | 71.4% | 10:26:28 a.m. | 11:52:24 a.m. |
| Table Rock State Park, Branson | Reserve | Reserve | 72.4% | 10:27:19 a.m. | 11:54:14 a.m. |
| Taum Sauk Mountain State Park, Ironton |   |   | 66.3% | 10:31:18 a.m. | 11:57:18 a.m. |
| Thousand Hills State Park, Kirksville | Reserve | Reserve | 64.7% | 10:28:36 a.m. | 11:52:07 a.m. |
| Towosahgy State Historic Site, East Prairie |   |   | 65.6% | 10:33:22 a.m. | 12:00:05 p.m. |
| Trail of Tears State Park, Jackson | Reserve |   | 65.0% | 10:32:53 a.m. | 11:59:01 a.m. |
| Harry S Truman Birthplace State Historic Site, Lamar |   |   | 72.6% | 10:25:47 a.m. | 11:51:52 a.m. |
| Harry S Truman State Park, Warsaw | Reserve |   | 69.7% | 10:27:06 a.m. | 11:52:32 a.m. |
| Mark Twain Birthplace State Historic Site, Florida |   |   | 64.7% | 10:29:40 a.m. | 11:53:50 a.m. |
| Mark Twain State Park, Florida | Reserve | Reserve | 64.7% | 10:29:40 a.m. | 11:53:50 a.m. |
| Union Covered Bridge State Historic Site, Paris |   |   | 65.1% | 10:29:20 a.m. | 11:53:32 a.m. |
| Felix Vallé House State Historic Site, Ste. Genevieve |   |   | 64.6% | 10:32:16 a.m. | 11:57:50 a.m. |
| Annie and Abel Van Meter State Park, Miami | Reserve |   | 67.4% | 10:27:27 a.m. | 11:51:52 a.m. |
| Wakonda State Park, La Grange | Reserve |   | 63.3% | 10:30:15 a.m. | 11:53:49 a.m. |
| Wallace State Park, Cameron | Reserve |   | 68.2% | 10:26:05 a.m. | 11:50:05 a.m. |
| Washington State Park, De Soto | Reserve | Reserve | 65.2% | 10:31:27 a.m. | 11:56:53 a.m. |
| Watkins Woolen Mill State Park and State Historic Site, Lawson | Reserve |   | 68.8% | 10:26:03 a.m. | 11:50:21 a.m. |
| Weston Bend State Park, Weston | Reserve |   | 69.9% | 10:25:07 a.m. | 11:49:26 a.m. |