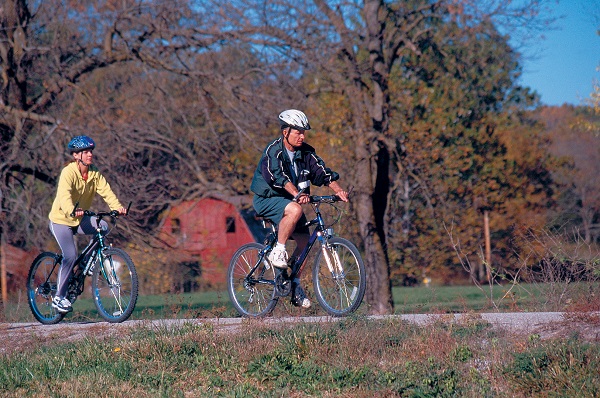 Bicycling is one of the most popular activities in Missouri's state parks, and it's not hard to see why. With its rolling hills and varied landscapes, the state is a bicycling fan's dream. Katy Trail State Park, with its tree-shaded gently loping terrain and great views of the Missouri River, stretches across the state's midsection. The trail offers numerous diversions for bicyclists along the way, including restaurants and connections to towns along the route. Built on the tracks of the old Missouri-Kansas-Texas Railroad line, the corridor has become one of the nation's leading bicycling destinations over the past 20 years.
But bicycling in Missouri has plenty to offer bicyclists of all levels of interest and fitness.
Mountain bikers will enjoy the rugged terrain and challenging bicycle trail at Finger Lakes State Park while the more leisurely 2.2-mile Table Rock Lakeshore Trail offers great views of scenic Table Rock State Park. Bicyclists looking for some Show-Me State scenery would also do well to check out Castlewood State Park near St. Louis. A series of trails wind throughout the park, with Lone Wolf Trail affording a blufftop view of the Meramec River below.