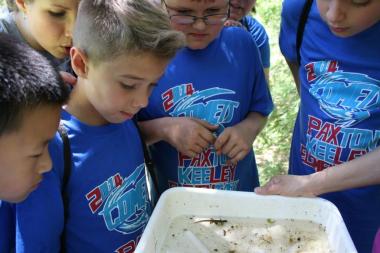 Missouri's interesting history and its outstanding natural landscapes are two aspects that make the Missouri state park system a great place to visit. If you want to learn more about either, you can attend programs that interpret history and nature at many state parks and historic sites. Programs are offered both within the parks and sites and off-site such as at schools.
For those wanting to learn more about the natural world, naturalists will help you explore what makes a landscape different, whether it is prairie, glade or forest, and the plants and animals that call each home. You can enjoy a spring wildflower walk or attend a program to identify different birds that live in Missouri.  If you want to learn more about how to enjoy the outdoors, programs are available on ways you can "get out and play."
If you are interested in history, programs are offered that explain the significance of a site, such as a Civil War battlefield, a gristmill or a covered bridge. Programs as you tour historic homes give you insight into the lives of famous Missourians like Harry S Truman and Scott Joplin.
You can learn a lot on your own as well. Many parks and sites have exhibits both inside and outside that explain the site's history and its natural features. Special self-guiding trails have been developed with brochures or exhibits along the way that explain more about the area and what you are seeing.
New Mobile Tour System
Through the OnCell Mobile Tour System, Missouri State Parks is piloting the use of hand-held mobile devices to provide audio tours. These mobile tours will offer visitors another avenue to learn about the cultural and natural aspects of each site through historical images, written text and audio commentary by park staff. Not only does the use of a mobile tour system meet the needs of today's technology users, it also allows the Missouri State Park system to become more "green" by decreasing the use of paper for trail guides. Currently, the mobile tour system is in trial phase at Weston Bend State Park in Platte County, but other sites may be added in the future. Once at a participating park or site, the mobile tour is accessible in a variety of ways. The full tour can be accessed through the internet or by scanning the QR Code on each tour stop sign. If you do not own a smart phone, the tour can still be accessed by calling 573-754-7004 . Once the number is called, the audio portion of the tour will play.  If the mobile tours system is popular, Missouri State Parks may consider expanding the platform to include other parks and historic sites and other engaging formats.
Look for links to the audio tour for North Ridge Trail at Weston Bend State Park.