Camping
As of 3/24/20, all campgrounds and lodging are closed Friday, March 27, through Thursday, April 30. This includes campgrounds, park-run lodging and concessionaire-run lodging. All fees associated with camping and park-run lodging reservations, including reservation, cancellation and modification fees, beginning the night of Friday, March 27, through the night of Thursday, April 30, will be refunded.

We are proud to be a member of the Missouri Association of RV Parks and Campgrounds. While our campgrounds are not currently open, the association is a great resource for finding other campgrounds during this time. Visit www.campinmissouri.com to find a campground near you.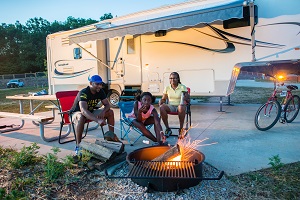 Timbuktu Campground at Echo Bluff State Park offers walk-in basic, electric/water premium and sewer/electric/water premium campsites.
To make a reservation or view campsite details, photos and availability, go to the reservation website by clicking the "Make a Reservation Now" link below. Reservations may also be made by calling toll free 877-ICampMO (877-422-6766). A printable campground map is available for your reference by clicking the "Campground Map" link.
Campground Information

Available Dates

Showers**/Water Available

Types of Sites

Campground Map

Year-round
April 1-Oct. 31
March 1-Nov. 30
Walk-in, Electric/Water*, Sewer/Electric/Water*
* Premium Electric sites available
Click here for a guide to the symbols.
Important Camping Information:
The campground is fully reservable. Reservable sites may be available on a day-by-day basis if the site is not reserved. Before occupying a site, check with the park staff or follow the directions on the posted card.
** The showerhouse with restrooms remains open year-round. During the off-season (November through March), potable water is available at both frost-free water spigots in the campground; however water is not available at the individual campsites during this time.
Firewood is available for purchase in the campground. Campers planning to carry in firewood must comply with current firewood advisories.