Nineteen rustic cabins made of native stone and wood are nestled within this scenic park. Most have fireplaces, kitchens, full baths, heating and air conditioning, outside grills, fire pits, and picnic tables. They are equipped with bedding, towels and kitchen utensils.
To make your reservation, call 888-210-3889 or 573-856-4223. Reservations are not accepted by email. Reservations for 2022 and beyond can be made online at https://reservesamabaker.com/ or by calling 888-210-3889.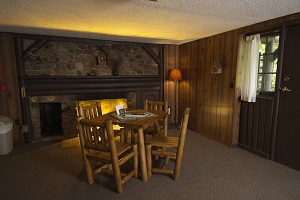 Dogs are allowed in a limited number of the cabins for an additional fee. Click on the Cabins for Canines link to the right for more information.
The cabins, Mudlick Mountain Grill, Mudlick Mountain Store and canoe rental are operated by the concessionaire. Raft and kayak rentals are also available. Let the concessionaire or a member of the concession staff make your visit to Sam A. Baker State Park more enjoyable. For more information about the concession facilities, please call 888-210-3889 or 573-856-4223 or visit their website.