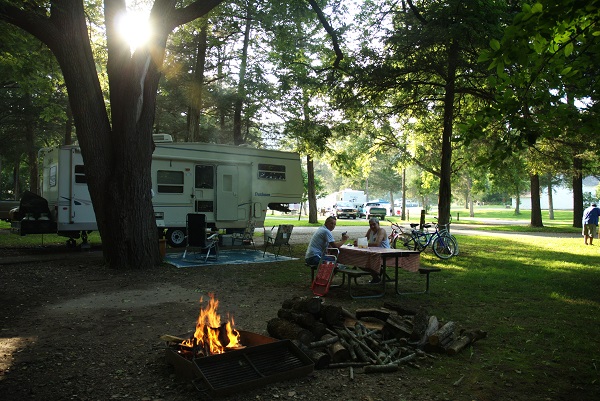 The smell of dinner on the grill, the anticipation of s'mores around the campfire and the sound of laughing kids splashing in a stream are all memories of that favorite camping trip in a Missouri state park campground. Missouri State Parks makes it easy to plan and enjoy that memorable camping trip whether you are in a tent or an 80-foot camping trailer.
Forty-one state parks and historic sites offer more than 3,500 campsites that range from secluded walk-in sites to sites with hookups for water, sewer and electrical service. Campgrounds are close to the action yet far enough away for you to enjoy the great outdoors. Campgrounds offer amenities such as hot showers, laundry facilities and dump stations, and some even provide free Wi-Fi connections. Start planning your visit and reserve your site here.
Missouri state parks provide the ideal setting. It's up to you to create the memories of that perfect camping trip.
New Contactless Self-Check-In Feature
Prior to arriving at the state park or historic site, campers will receive an email with instructions on how to access their reservation online and check in on the day of arrival. Alternatively upon arrival, campers can check in by opening the camera on their smartphone device and hovering over the QR code posted at the campsite, and following the prompt. Missouri State Parks staff will be available at the park or historic site to answer any questions. For more information on self-check-in, click here.
Operations
Many parks contain rules and policies that are specific to the individual park and its resources. Please call the individual park to inquire of specific rules and, upon your arrival, check the park's bulletin boards for additional rules.
Electric hook-ups are available year-round at most state parks, while water and showers are usually available in the on-season, which is typically  from April 1 through Oct. 31. At Roaring River, Bennett Spring and Montauk state parks, the on-season begins Feb. 25. Some northern parks begin on-season operation on April 15. The on-season for Table Rock State Park runs from March through November.
A two-night minimum stay on the weekend (Friday and Saturday or Saturday and Sunday) is required at Lake of the Ozarks, Pershing, St. Joe, Table Rock, Mark Twain, Wakonda, Wallace and Watkins Mill state parks. Camping is limited to any 15 days within a 30-consecutive-day period at any one park.
LEAVE NO TRACE
Leave No Trace is a national education program that teaches outdoor enthusiasts how to protect the places they love, like Missouri state parks and historic sites, from human-caused recreational impacts. Missouri State Parks has adopted the program's seven principles, which are: 
(1) Plan ahead and prepare.
(2) Travel and camp on durable surfaces. 
(3) Dispose of waste properly.
(4) Leave what you find.
(5) Minimize campfire impacts.
(6) Respect wildlife. 
(7) Be considerate of other visitors.
Please practice these principles during your camping stay.
Enjoying Missouri State Parks with Your Pet
Responsible pet owners and their pets are welcome in Missouri state parks. As a courtesy to other visitors, it is recommended you bring no more than two dogs per campsite. This also helps reduce the impact on the natural resources and aids with noise control. By following current pet rules, a positive impression will be left for all pet owners and will ensure that this privilege continues.
Senior and Disabled Citizens and Retired, Veteran and Active-Duty Military
Citizens who are 65 years of age or older, people with disabilities and military (retired, veteran and active-duty military personnel) are entitled to a reduced camping rate. An official document certifying proof of age, disability or proper military status must be presented upon check-in. Please visit the Camping Rates page for additional information on discounts.
Missouri Camper Award
Have you or your family camped in five different state parks or historic sites this year? Are you enrolled in our Customer Rewards Program? If so, you may be eligible for a Missouri Camper Award. Once you have enrolled in the program and completed your five qualifying camping stays, a friendly Missouri State Parks team member will be in contact with you to collect your recipient information and issue your award prizes!
Note: You must be enrolled in the Customer Rewards Program in order to be eligible for the Camper Award.