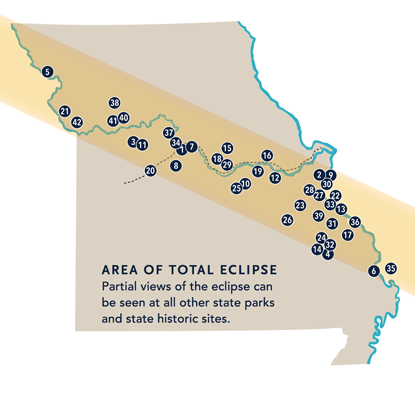 An exciting and rare astronomical event is coming to Missouri! We are inviting you to celebrate the 2017 total eclipse on Aug. 21, 2017, in a state park or historic site. It's been nearly 150 years since Missourians experienced a total solar eclipse — the last time was Aug. 7, 1869.
Make your plans to view this exciting event in a state park or historic site. There are 42 locations in the state park system where you can see the total eclipse. Read on for more on where and when you can experience the total eclipse.   
Make Your Reservation Now to Stay Overnight During the Eclipse
Beginning Feb. 18 at 7 a.m., guests will be able to make camping and lodging reservations for the weekend of the event. Reservations for this event will require a three-night stay from Aug. 18 through Aug. 21. Click reserve below or call 877-ICampMO (877-422-6766) to make a reservation.
Click here for more information about the special reservation window that was offered Nov. 4-25 and allowed guests to make early reservations for the weekend of the solar eclipse. 
| | | | | |
| --- | --- | --- | --- | --- |
| Mile Marker | Katy Trail Trailhead | Eclipse Begins | Totality Begins | Duration of Totality (mm:ss.s) |
| 227.1 | Katy Trail State Park Sedalia Trailhead | 11:44:00 a.m. | 1:11:15 p.m. | 1:36.2 |
| 215.4 | Katy Trail State Park Clifton City Trailhead | 11:44:20 a.m. | 1:11:18 p.m. | 2:09.5 |
| 203.3 | Katy Trail State Park Pilot Grove Trailhead | 11:44:36 a.m. | 1:11:15 p.m. | 2:33.3 |
| 191.8 | Katy Trail State Park Boonville Trailhead | 11:44:51 a.m. | 1:11:25 p.m. | 2:41.6 |
| 188.2 | Katy Trail State Park New Franklin Trailhead | 11:44:52 a.m. | 1:11:25 p.m. | 2:41.6 |
| 178.3 | Katy Trail State Park Rocheport Trailhead | 11:45:13 a.m. | 1:11:49 p.m. | 2:41.1 |
| 169.5 | Katy Trail State Park McBaine Trailhead | 11:45:31 a.m. | 1:12:21 p.m. | 2:25.0 |
| 153.6 | Katy Trail State Park Hartsburg Trailhead | 11:45:48 a.m. | 1:12:39 p.m. | 2:37.0 |
| 143.2 | Katy Trail State Park North Jefferson City Trailhead | 11:46:07 a.m. | 1:13:04 p.m. | 2:34.4 |
| 131.2 | Katy Trail State Park Tebbetts Trailhead | 11:46:30 a.m. | 1:13:25 p.m. | 2:40.4 |
| 125 | Katy Trail State Park Mokane Trailhead | 11:46:40 a.m. | 1:13:32 p.m. | 2:42.0 |
| 115.9 | Katy Trail State Park Portland Trailhead | 11:46:57 a.m. | 1:13:50 p.m. | 2:39.6 |
| 100.8 | Katy Trail State Park McKittrick Trailhead | 11:48:29 a.m. | 1:14:27 p.m. | 2:29.0 |
| 84.7 | Katy Trail State Park Treloar Trailhead | 11:48:02 a.m. | 1:15:05 p.m. | 2:28.1 |
| 77.7 | Katy Trail State Park Marthasville Trailhead | 11:48:18 a.m. | 1:15:24 p.m. | 2:23.6 |
| 74 | Katy Trail State Park Dutzow Trailhead | 11:48:25 a.m. | 1:15:33 p.m. | 2:23.7 |
| 66.3 | Katy Trail State Park Augusta Trailhead | 11:48:40 a.m. | 1:15:50 p.m. | 2:21.8 |
| 60.6 | Katy Trail State Park Matson Trailhead | 11:48:50 a.m. | 1:16:05 p.m. | 2:08.8 |
| 56 | Katy Trail State Park Weldon Spring Trailhead | 11:48:55 a.m. | 1:16:16 p.m. | 1:51.8 |
| 45.7 | Katy Trail State Park Greens Bottom Trailhead | 11:49:15 a.m. | 1:17:03 p.m. | 0:55.8 |