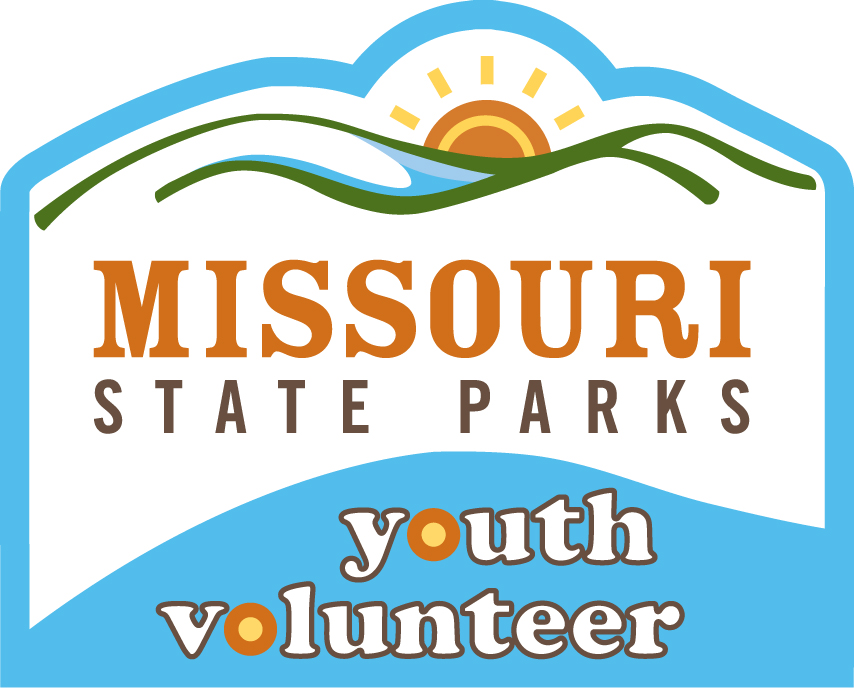 Individuals and organized youth groups, such as Scouts, 4-H groups and Future Farmers of America, now have the opportunity to assist with a variety of projects in a state park or historic site to earn patches. This program is open to anyone under the age of 18.
For more information about volunteer opportunities, click here.
How the program works:
Youth groups or individuals arrange a work day at a state park or historic site.
Upon completion of the project, you will receive a Missouri State Parks Youth Volunteer patch.
Each person can complete the program one time.
Projects:
Below is a list of the possible projects at each state park or historic site.
Trail work
Building maintenance (such as cleaning and treating the furniture)
Front desk service
Painting
Litter pickup on trails
Deberm trails
Honeysuckle, garlic mustard and other invasive species removal
Maintain flower beds at visitor center (weeding, watering, etc.)
Maintain gravel walkways around monument
Trash pickup in the swimming hole/shut-ins area
Exotic species eradication along the bike trail and at the horse camp
Special event assistance
Graffiti removal from picnic tables
Big Creek trash pickup
Visitor center assistance
Trail work on Snow Trillium Trail – general maintenance/debris removal
Trail work on Oxbow Trail at Iliniwek Village State Historic Site – cutting small limbs and debris removal
Gardening
Trimming and pruning foliage
Splitting rails
Staff visitor center
Give tours of the Anderson House
Assist with programming
Litter pickup in the following areas
Debris cleanup
Power washing buildings
Clean up pool and change house
Clean up playground equipment
Replace playground border and the level sand
Replace boundary signs
Clean up and straighten all park signs
Trail maintenance: Boardwalk Trail and Bottomland Trail
Giant cane planting along the day-use area/natural area boundary
Natural area sign replacement/park boundary sign replacement
Lake cleanup: debris/trash removal around the lake and cleaning fishing access areas
Assist visitors and staff at special events
Clean stream bed
Clear vegetation from stream banks
Cemetery trail maintenance
Clean machinery in mill
Maintenance on hiking trails
Whitewashing of Boone home and yard fence
Assist with special events
Cleaning the headstones in the cemetery
Policing and cleaning up the playground area
Spring cleaning of Camp Grand River in preparation for on-season
Spring cleaning of enclosed shelter house for on-season
Trail maintenance to include removal of litter, trimming of branches and informing staff of other issues
Spring litter cleanup along park roads and along mowed areas
Invasive plant removal
Assistance with special events
Visitor programming such as:
Litter patrol
Trail work – the park has 36 miles of trail
Stewardship projects
Trail maintenance
Interpretive programs
Outdoor skills
Fishing clinics
Outdoor cooking
Orienteering
GPS
Leave No Trace
History
Braille Trail - maintenance
Engine House Trail – maintenance
Spring cleanup and readying the park for on-season
Stacking wood
Spring cleanup in preparation for the on-season
Fall cleanup at end of camping season
Trail maintenance
Fire line preparation
Invasive plant removal
Minor maintenance and cleaning
Painting
Visitor programming, such as:
Trail work – clearing and maintaining trails
Install logs (water bars) for erosion control in day-use area
Litter pickup
Paint and stain bridges/structures
Plant willow cuttings along creek
Build campsite tent pads
Clear trails
Build trails
Work with recycling (sort)
Make/set up benches for fire ring
Gravel a walkway to the fire ring
Make/place posts for Horseshoe Glade Trail podcast
Ditch around mosaics
Managed out of Knob Noster State Park
Spring cleanup and readying the park for on-season
Litter patrol
Trail duty – walk trail and inform full-time staff of downed trees and any other problems
Visitor Programming
Plant/fungus identification and utilization

Use MDCs cookbook "Missouri's Wild Mushrooms" to cook small meal as an example of resource available to visitors
Use wild mushrooms found in the park

Invasive Species Detection
Assist with managed deer hunt
Visitor programming
Guided hikes – any or all trails, longer hikes could be planned with McAdoo Trail or Opossum Hollow Trail
Equestrian Dos and Don'ts followed by a ride on McAdoo Trail
Bicycle Maintenance 101 followed by a bike ride on Opossum Hollow Trail
Fire building
Outdoor cooking – Dutch oven cooking, etc.
Orienteering – KNSP has two courses, which would be good for the patch
GPS – could be used for a scavenger hunt
Leave No Trace – An overnight program could be held in the Special-Use Area
Knob Noster SP history – park's importance to WPA era

Spring cleanup and readying the park for on-season

Cleaning fire rings in campground
Removing large sticks/branches from campground area
Detail clean specific buildings, such as showerhouses, Visitor Center, vault toilets, etc.

Stacking wood – for park shop
Assistance with a specific area of the park

Special-use area: check for litter
Lake(s): check for litter
Group camp(s): check for litter

Invasive plant removal, bush honeysuckle, teasel, etc.
Minor maintenance, such as

Trail work
Basic maintenance/building
Trail duty – walk trail and inform full-time staff of downed trees and any other problems

Staffing the Visitor Center: weekends during on-season
GPS specific themed sites of interest and create an activity associated with those sites (examples – historical tour of park or a winter GPS trail to areas off the beaten path that have some significance to the park.
Equestrian training workshops – leave no trace, guided trail ride with cookout somewhere along the trail
Solar energy program – or have a group build some type of equipment
Wood working program – building animal houses, then naturalist would do a whole day of wildlife activities
Litter and debris cleanup on the lake shoreline and/or park grounds
General cleanup of campground in the late fall (leaf cleanup, etc.)
Spring cleanup and readying the park or the campground for on-season
Stacking wood/preparing the campground for on-season
Assistance with a specific area of the park as needed
Invasive plant removal at the interpretive plaza, bottomland restoration area and native tallgrass prairie
Minor maintenance, cleaning and possibly small construction projects
Painting
Trail work
Waterfront maintenance
Visitor programming such as
Pick up trash in the campground
Pick up trash along lake shore
Clean fire rings in campground and Pin Oak Hollow
Backpack camp construction and repair existing backpack camps along the backpack trail
Retaining wall construction and landscaping at varied locations
Trail clearing – 25 miles of trail that could be adopted and the need to clean large amounts of flood debris off of the trails
Landscape project to plant trees in campground and mulch around trees
Bulletin board construction and placement – use of state park design is required
Repaint parking stripes on park's parking lots
Paint jobs
Pour a hopscotch play area at the campground
Build some benches and have them placed at the appropriate locations in the park (Park must approve design)
Repair seats in the amphitheater
Roadside cleanup along the route to the park
Individual Projects:
Produce interpretive materials to distribute to the public (for example: Design and make 1,000 buttons to give out on stopping the spread of the emerald ash borer; example 2: Design a park safety coloring book or fishing "how to" coloring book to give to park visitors)
Visit the park during each of the seasons and help create a bird list for the park that could be put in checklist format and distributed. Observe and identify all the birds you can during your visits.
Design and run a recycling program for our park for one full year (vacation season)
Managed out of Gen. John J. Pershing Boyhood Home State Historic Site
Assist with management of a natural area
Invasive plant removal
Trail maintenance
Stream cleanup
Trash pickup and maintenance along hiking trails
Clean the mill
Paint buildings
Water flowerbeds
Help at special events
Eradicate invasive species
Assist with nature programs
Remove branches with hanging line and hooks from stream bank
Trail maintenance: Beech Tree Trail
Construct and place bridges/water crossings at points on the trail
Tree planting at a small reclamation area
Glade restoration
Exotic species removal
Litter cleanup along highway
Wildflower garden work
Trail work
Cave cleanup
Assist with Haunted Cave Tours
Spring cleanup of the campground – trash removal, cleaning fire rings, trimming limbs, etc.
Spring cleanup to open the showerhouse – thorough clean inside and out
Spring cleanup of the shelter house – thorough clean inside and out
Improve wet crossings on trails with stones or other means
Forb or grass seed collection
Keep the picnic area cleaned up
Monitor or do light upkeep on trail
Catch critters for the nature center – food items for animals already there
Pick up trash along county roads and throughout park
Assist with Prairie Jubilee or other events
Paint or stain benches 
Pick up trash 
Trail maintenance 
Campground projects 
Special event assistance 
Collect nuts from specific oak, hickory, buckeye and walnut trees
Plant trees in specific areas of park
Invasive plant removal
Paint and waterproof park structures
Lead guided interpretive hikes
Invasive plant control
Old fence wire removal
Assist with programs if youth have applicable skills (i.e. orienteering, GPS, Leave No Trace)
Playground and picnic area maintenance
Trail maintenance
Litter removal
Assist with general maintenance
Assist in fee booth
Mowing and trimming
Trash collection and removal
Trail maintenance
Removal of invasive yucca in fen area
Assist naturalist with interpretive programs
Trail construction (pending clearance)
Lakeshore cleanup
Litter cleanup in campground and on shoreline of Table Rock Lake
Invasive plant removal
Litter patrol
Trail building/maintenance
Invasive species removal
Interpretive programs (with appropriate training)
Count firewood    
Load recycled materials              
Spring cleanup of buildings and grounds
Invasive plant removal
Painting               
Trail work
Staff museum
Campsite rehab    
Assist at special event programs
Do research for a temporary exhibit
Maintain fire lanes
Roadway edges - litter patrol
Trails - litter patrol and minor maintenance
Lake shores - litter patrol
Trail cleanup – walk a trail and pick up litter and remove small branches from trail
Day-use area cleanup – pick up litter and remove small branches from mowing area
Conduct programs, such as weekday youth fishing clinics, guided hikes of Opossum Track or Thousand Steps Trail, orienteering
Plant and/or wildlife survey of the glades
Waterline cleanup
Pick up litter in the park
Pick up litter around bicycle trail
Pick up litter around lake shore
Pick up litter in campground
Clean fire rings in campground
Whitewash fence
Build replacement benches for the amphitheater
Assist with wedding heirloom garden
Assist with the removal of invasive species
Paint exterior trim on the school
Build new repro privies for church and school yards
Paint window sashes and glaze window panes in the mill
Replace board/batten exterior siding on garden shed
Brush clearing/trail maintenance on park trails
Installation of water bars/erosion prevention projects on park trails
Litter pickup
Fall campground cleanup: leaf removal, litter removal, cleaning of fire grills
Painting of park structures
Replacing of park fence (rotted sections)
Painting of parking lot stripes
Plant/ animal surveys
Invasive species removal
  Evening campground interpretive program
  Special event setup, cleanup and activities