The Lake of the Ozarks is one of Missouri's premier vacation destinations. Hidden a short distance away from the abundant tourist attractions, two state parks border the lake, where a variety of outdoor adventures await you. Lake of the Ozarks State Park near Kaiser and Ha Ha Tonka State Park near Camdenton offer solitude and an opportunity to explore the natural Ozark landscape that surrounds the lake.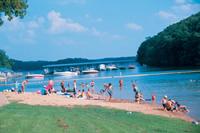 Recreation options galore are ahead of you at Lake of the Ozarks State Park. If you like to play on or in the water, the park offers more than 80 miles of lake frontage, boat ramps, boat rentals (fishing, skiing and pontoon) at two marinas and an equal number of swimming beaches. With more than 17,000 acres, those that prefer to stay ashore will easily find solitude in the wooded areas of the park. Twelve trails, allowing hiking, mountain biking and equestrian use, give you the chance to explore oak-hickory forests, sunny glades, small springs and streams, and open, grassy meadows and provide some of the best scenic views of the lake. If you don't own a horse but want to explore some of these natural features on horseback, Lake of the Ozarks Stables provides guided horseback rides ranging from one hour to all-day excursions.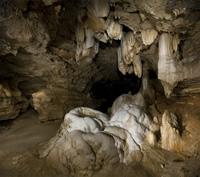 You can also explore the world beneath your feet on a tour of Ozark Caverns. With lantern in hand, view sleeping bats, bear claw marks and the unusual formation of stalactites and waterfalls referred to as "Angel Showers." Guided tours are given of the cave daily during the summer. While visiting the Ozark Caverns area of the park, take a self-guided hike through Coakley Hollow Fen Natural Area, comprised of spring-fed streams, seeps, caves, fens, glades and deep valleys.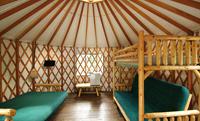 After a day of outdoor fun, sleep under the stars in the park's campground, or experience a rustic camping experience without pitching at tent by staying in one of the Outpost cabins. New to the state park system, two yurts are also available at this park. The stables, campground, one beach, one marina and trails are all offered in the main area of the park, located a short drive down Highway 42 to Highway 134. The Grand Glaize Beach area and marina are located just off Highway 54, west of the Grand Glaize Bridge. Ozark Caverns is located off Highway A in Camden County. Park admission is free. There are fees for camping, lodging and cave tours.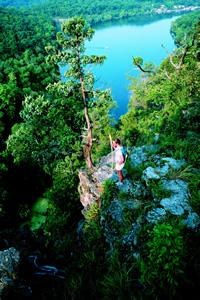 A visit to the Lake of the Ozarks area isn't complete without a visit to Ha Ha Tonka State Park. From Lake of the Ozarks State Park, continue west on Highway 54, just past Camdenton to Highway D, which takes you to the park. Just like the earlier settlers, the extraordinary beauty of the area will awe you. The park showcases some of the state's most remarkable karst geology, including a natural bridge, caves and many steep-sided sinkholes such as Whispering Dell and the Colosseum, which can be viewed from trails. Tall bluffs tower over Ha Ha Tonka Spring, Missouri's 12th largest. Trails and boardwalks will allow you to peer into caves, walk through a natural tunnel, trek through and around sinkholes and savannas, view wildflowers or climb up steps from the spring to another fascinating feature of the park -- the castle ruins.
High on a bluff overlooking Ha Ha Tonka Spring and Lake of the Ozarks sits the ruin of a stone mansion built in the early 1900s, adding an air of mystery to the richly wooded area. Overlooks in the castle area provide great views of the lake and the spring. This day-use park also offers numerous picnic areas, two picnic shelters, a playground, two courtesy docks and an accessible fishing dock. Cost: Free.
The Missouri Department of Natural Resources preserves state parks and historic sites to give visitors the opportunity to discover Missouri's unique landscapes and heritage. State parks and historic sites are funded primarily by the one-tenth-of-one-percent parks, soils and water sales tax, which allows visitors to enjoy these resources at little or no cost, making them a great value. Your family will also value their time together exploring and enjoying Missouri's fascinating natural and cultural resources while creating lasting memories.