Off-Road Escapade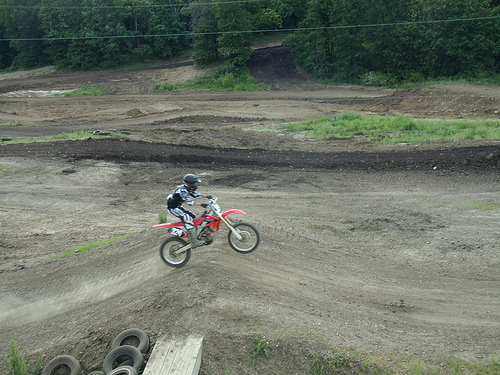 Most people think of a state park as a quiet retreat: a place to enjoy natural landscapes of wildflowers, rolling hills and running streams. However, some of the state park landscapes are man-made, creating unique recreational playgrounds. Finger Lakes State Park falls in this category.
The 1,128-acre park was once the site of a coal strip-mining operation. Between June 1964 and October 1967, the Peabody Coal Co. removed more than 1.2 million tons of coal from the Boone County site, known as Mark Twain Mine, leaving barren piles of earth and numerous pits of water. Shortly after mining operations ceased, Peabody replanted and reseeded much of the mined acreage and stocked several fishing lakes. The rugged terrain created by the mining, however, was not altered.
Shortly after the passage of modern land reclamation laws in 1972, the U.S. Department of Interior began searching for strip-mined sites abandoned prior to the laws on which to conduct reclamation-for-recreation projects. In May 1974, Peabody representatives donated 1,028 acres to the state park system. That same month, the state received one of only a dozen federal grants to demonstrate the use of strip-mined land for recreational use.
Today, the rugged landscape of Finger Lakes State Park has been recycled into more than 70 miles of off-road motorcycle and all-terrain vehicle trails. The steep hills and deep ravines will challenge the skills of even the most experienced riders. The off-road trails are for motorcycles, four wheelers and all-terrain vehicles only; four-wheel vehicles such as automobiles, pick-up trucks, jeeps and dune buggies are not permitted off the normal park roadways.
A motocross track, designed by professional riders, is the location for many special events held in the park each year. The popularity of off-road motorcycling and all-terrain vehicle use in the park has prompted the Department of Natural Resources, in cooperation with motorcycle clubs and manufacturers, to sponsor nearly a dozen motocross and motorcycle races and events each year. The increasing popularity of mountain biking has also brought races to the park.
For visitors looking for the more typical state park experience, the numerous finger-shaped lakes allow activities such as swimming, fishing, canoeing and scuba diving. Nearly a dozen small, isolated lakes left by the mining company were joined together by a series of dams and canals. The result is a long, narrow strand of water that runs more than a mile and a half along the eastern edge of the park, perfect for canoeing and kayaking. Check out the park's water trail. A sand swimming beach and change house are located on one of the eastern finger lakes and fishing holes are scattered throughout the park.
Wooded areas of the park, where trees had been replanted and the land reseeded, have been made into picnic and camping areas. In the center of the park, a shaded picnic area, complete with picnic tables and grills, provides welcome relief from the summer sun and an ideal lunch location. A hiking and mountain biking trail runs through a wooded area of the park and features a pump track next to the trailhead. In the northwestern area of the park, basic and electric campsites await overnight guests. The camping area features modern restrooms and hot showers.
Finger Lakes State Park is the perfect destination for individuals and families with a taste for adventure. With the park's wide range of recreation options, even family members that prefer to take life at a slower pace will find something to enjoy.
Finger Lakes State Park is one of two state parks that cater to off-road enthusiasts. St. Joe State Park, located 90 minutes south of St. Louis on U.S. 32, offers 54 miles of off-road vehicle trails for both two-wheel and four-wheel vehicles.