Hillsides of Seclusion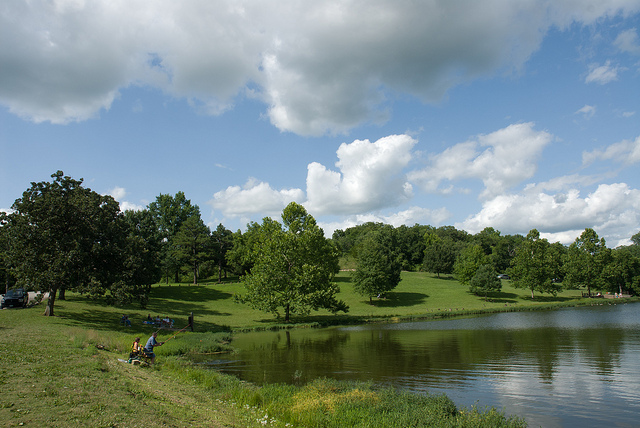 The wooded hillsides of Wallace State Park provide a peaceful escape from the rush of everyday life. Nestled in the rolling farmland of northwest Missouri, this family-oriented park is a recreation retreat for nearby Kansas City residents, senior citizens and vacationing families.
When settlers began to arrive in the area in the early 1800s, they found a rich and diverse land. The streams and forests provided opportunities for trapping, hunting and fishing, and the prairies could be planted in crops. Many of the early settlers arrived via a well-worn road known as Hound Dog Trail, along which daily stagecoaches operated between Hannibal and St. Joseph. Today, much of Highway 36 follows this early road.
As other settlers moved into the area, more of the land was converted to agricultural uses. Through the efforts of the Cameron Sportman's Club and other citizens, the state acquired a 121-acre section of land in 1932. Named for one of the original landowners who sold acreage to establish the park, Wallace State Park was one of the first recreational areas in northwest Missouri. Much of the initial development was done through the Works Progress Administration in the 1930s.
Today, the park has a rugged terrain with forest-covered hillsides. White oak, red oak and hickory trees can be found on ridgetops, with an understory of redbud, pawpaw and black cherry. Stately sycamore and bur oak trees grow in the rich bottomlands along Deer Creek. Trout lilies, May apples, spring beauty and Dutchman's breeches cover the forest floor. The dense forests, old fields, streams and ponds create a diverse habitat for a wide variety of birds and other animals, such as white-tailed deer, raccoon, opossum, muskrat and squirrel.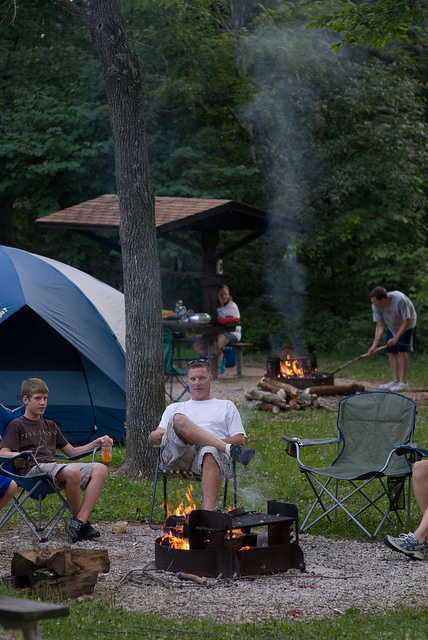 For visitors wishing to take in the beauty and solitude of the natural environment, trails wind through the park. Rocky Ford Trail follows a gentle downhill slope to Deer Creek. Old Quarry Trail takes visitors past an old quarry and through a small stand of Scotch and short-leaf pine. Skunk Hollow Trail is a shady path that follows an intermittent stream. For a longer walk, visitors can follow Deer Run Trail, which offers length options up to three and one-half miles through a variety of natural settings. Benches along all the trails not only provide a resting spot for hikers, but also an opportunity to get a closer look at the plants and animals that go unnoticed when one strides through the woods.
Fishing is generally done from the shore of 6-acre Lake Allaman; however, small boats and electric motors are permitted. On summer evenings, bird watchers will enjoy watching turkey vultures soaring overhead, back to their roosting sites in the large oak trees near the lake.
Picnic sites are scattered throughout the wooded area of the park and near the lake, providing an excellent place to enjoy lunch. For large family gatherings, the park has an open picnic shelter that overlooks the lake and an enclosed shelter with a range, refrigerator, and heat and air conditioning.
The park's peaceful, family-oriented campgrounds include both basic and electric campsites, modern restrooms, hot showers, a trailer dump station and playground equipment. Walk-in campsites are available to those seeking more seclusion.  Organized youth groups can reserve the park's special-use camping area.
Trice-Dedman Memorial Woods, administered by the Department of Natural Resources and owned by The Nature Conservancy, is located 20 miles southwest of the park. Inside its 60-acres lies a prime example of northwest Missouri's hardwood forest as it appeared in presettlement times.