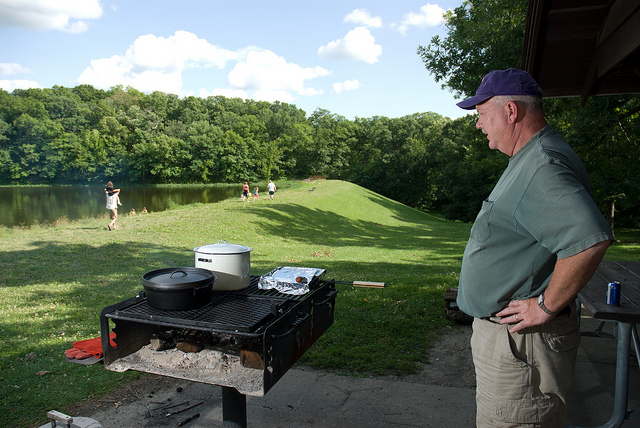 You will find an excellent place to enjoy lunch at one of the picnic sites scattered throughout the wooded area of the park and near the lake.
Picnic Shelters
For large family gatherings, you can rent one of the park's shelters.
The open picnic shelter overlooks the lake and can accommodate 50 people. It has a group grill, two electrical outlets and a water fountain nearby. A vault toilet is nearby. This area is not accessible to people with disabilities due to slopes. The open shelter may be reserved for $40 a day, or if not reserved, the open shelter is available on a first-come, first-served basis.
The enclosed shelter has a range, refrigerator, heat and air conditioning. It can accommodate 75 people, 40 inside and 35 outside on the patio. A water fountain and vault toilet are near the shelter. The shelter is accessible to people with disabilities. Use of the enclosed shelter is offered during the on-season for $100 per day; reservations are required.
Shelter Reservations
To reserve a shelter or check for availability, visit our reservation page* or contact the park at 816-632-3745.
*Shelters can be reserved online from 30 days to 12 months in advance of the day of use. Reservations for arrival dates less than 30 days out can be made only by contacting the park.
Playground
A playground is located in the picnic area.
Play a friendly game of horseshoes! Horseshoe equipment is available for checkout at the park office. There are horseshoe pits at both picnic shelters.