Park Trails
Taum Sauk Section of the Ozark Trail
Trail Rating: Rugged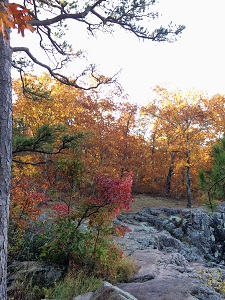 The rugged 35-mile Taum Sauk Section of the Ozark Trail runs through the heart of the ancient St. Francois Mountains. Some of the most scenic areas lie within Johnson's Shut-Ins State Park. This rocky trail winds through mountains of oak-hickory forest, dotted with shortleaf pine trees, bluffs and rocky glades.
Hikers can travel east into Taum Sauk Mountain State Park. This very rugged 14.5 mile portion of the Taum Sauk Section of the Ozark Trail lies within the St. Francois Mountains Natural Area. Steep, rocky climbs with high rock "steps" and several creek crossings characterize this trail.
Hikers may instead choose to travel 15 miles west. Passing through the scour channel, the trail continues high above the East Fork of the Black River. After crossing the river and State Highway N, hikers enjoy mountain views across open, rocky glades in the Goggins Mountain Wild Area.
The Taum Sauk Section of the Ozark Trail connects to Goggins Mountain Equestrian Trail within the park. Another nearby trailhead for the Taum Sauk Section is located along County Road A in the U.S. Forest Service's Bell Mountain Wilderness Area.
Along this trail, seasonal flooding is possible. Use caution, as rocks are very slippery when wet. Follow the green and white "OT" trail markers, allowing plenty of time to complete each portion of the trail. Watch out for trail intersections with old roads and firelines. Be sure to follow the trail markers. 
This trail is for hiking, backpacking and backpack camping. (See Black River Center staff for restrictions.) Carry plenty of water, since water to treat for drinking may not be available along the trail.
| Length | Estimated Hiking Time | Type | Blazes | Trailhead |
| --- | --- | --- | --- | --- |
| 14.5 miles | 14 hours, 30 minutes | Linear | Green and White "OT" signs | At the Scour Trail trailhead; parking is located along State Highway N just north of the main park entrance. |