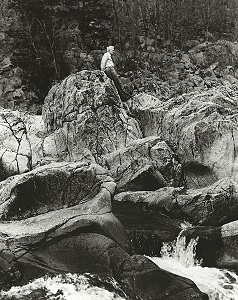 The rugged terrain and rushing rivers of the St. Francois Mountains once attracted Osage hunters, but did not appeal to most settlers from the East. They often preferred to settle first in the flatter, more fertile Mississippi and Missouri River valleys.
The Johnston family was among the early Scots-Irish settlers in this area that came west from the hilly countryside of Appalachia in search of better land. Here they found fertile valleys, vast uncut forests and plenty of room for homesteading. By 1829, they had established a farm. Three generations of Johnston (the "t" was later dropped) families once worked this land and 36 members of the family are buried in the small cemetery in the park. By 1900, many of the families that formed the self-sufficient community of Monterey moved away. Eventually, St. Louis resident Joseph Desloge bought much of the land, donating it for a state park in 1955.
In December 2005, the main use area in the East Fork of the Black River valley was changed dramatically. The nearby Taum Sauk Reservoir, a hydroelectric power station, breached, sending 1.3 billion gallons of water down Proffit Mountain. The water, carrying tons of trees, debris and boulders, scoured the mountainside and destroyed or extensively damaged facilities in the park, including the campground. It also altered the landscape of the valley and the East Fork of the Black River in the park. This event changed the park forever and has become part of the history of Johnson's Shut-Ins State Park. This area of the park has been redeveloped and many of the features and facilities in the main day-use area are the result of this redevelopment.