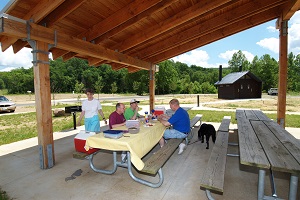 You will find ample space to spread out a picnic lunch with family and friends. The park has 15 single table picnic pads in two picnic areas, which are located on the north and south ends of the day-use area, along with numerous picnic shelters in the picnic areas and in the campground.
Picnic Shelters
The park features 14 covered picnic shelters; all are available on a first-come, first-served basis.
Shelter Reservations
The enclosed shelter can be reserved in advance. To reserve the shelter, contact the concessionaire at 573-546-0825. For more information about the concession at Johnson's Shut-Ins, visit https://www.jsiconcession.com/.
Playground equipment is located in the North Day-Use Area.