Things to know before you go:
Missouri state park trails are generally open from sunrise to sunset. Some parks have gates that close every evening.
Ticks, chiggers and mosquitoes are common in Missouri April through October. Be prepared with insect repellent.
Know your physical capabilities when choosing a trail.
Always carry water to ensure you stay hydrated. Watch the weather and dress appropriately.
Read the information on the trailhead signs and maps to become oriented and aware of the trail terrain, length and special features.
Trail Rules
Please help to maintain and preserve the beauty of Missouri State Parks trails by following these rules:
Only hikers, equestrians, bicyclists and backpackers, as designated, are permitted on the park trails.
All pets must be kept on a leash for their protection and that of other visitors and wildlife.
Removal of plants, animals, rocks, downed timber, artifacts or relics is prohibited.
Cutting implements such as saws and hatchets are not allowed on trails.
No hunting or discharging of firearms is permitted.
All other rules and regulations pertaining to park use are applicable to trail users.
Additional Rules for Backpacking Trails
All backpackers must register at the trailhead or park office before starting their trip.
Groups of seven or more people are permitted to camp only in designated areas. While smaller groups are not required to use the designated areas, they must camp at least 100 feet from the trail, 200 feet from any major public use area, and at least one-fourth mile from the trail entry/exit point.
Campfires are prohibited unless there is a designated backpacking campsite where a fire ring has been provided. On most trails, stoves will be needed for cooking.
The Ethics of Good Trail Use
Carry out what you carry in. If the trail users before you have not done this, you can help by removing their trash, too.
Keep your group small. Small groups are less likely to harm the environment.
Dispose of human waste properly. The top 6 to 8 inches of soil provide a system of biologic disposers that decompose organic material. Hikers should select a spot at least 100 feet from any open water; dig a small hole no deeper than 6 or 8 inches. After use, fill the hole with loose soil and tramp in the sod.  Nature will do the rest.
Stay on the trail. Do not take shortcuts. The trail has been laid out to minimize destruction of surrounding vegetation and to prevent erosion.
Avoid using a trail when wet.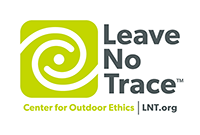 Leave No Trace
When visiting Missouri state parks and historic sites, please remember your role in protecting and preserving Missouri's natural and cultural resources, while considering the health and safety of others. Leave No Trace Center for Outdoor Ethics is a national organization with a mission of protecting the outdoors by teaching and inspiring people to enjoy it responsibly.
Plan ahead and prepare. Look for information before heading to a park or historic site by visiting mostateparks.com. Research whether the park is open or if there are any temporary closures, what recreational opportunities exist, length of the trails, and availability of water and public restrooms. Always carry hand sanitizer, soap, bottled water and wipes in case services are limited.
Always travel on durable surfaces by staying on designated paths, trails and areas, thereby protecting the wildlife, unique features, and any sensitive plants or areas along the trails.
Trash your trash. Always pack out trash, including food scraps, water bottles, wipes, plastic containers, etc.
Take only pictures and leave only footprints. Leave behind the flowers, rocks and any other treasures for others to see.
Minimize campfire impacts. If making a fire, use a provided campfire ring or picnic grill. This is especially important during dry spells, as a fire could easily spread to unwanted places. Check for any local fire restrictions.
Respect wildlife. Enjoy their sights and sounds from a distance and never feed them. This protects visitors and the wildlife.
Respect other visitors. Always keep a 6-foot physical distance from others, talk with inside voices, respect trail right of way and always wear headphones when listening to music. If a trail is busy, warn others when passing.  
Missouri State Parks is a proud partner of the Leave No Trace Center for Outdoor Ethics and believes in the stewardship of America's public lands.