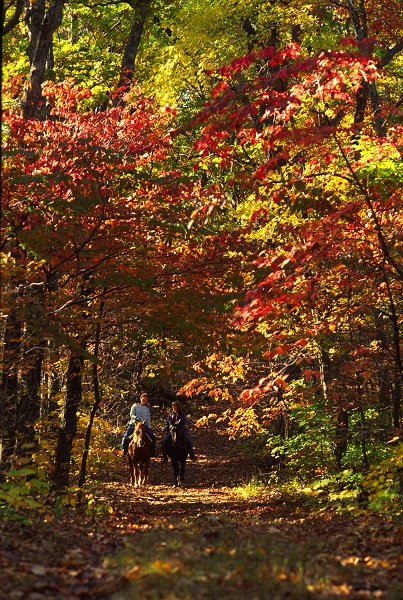 Horseback riders are welcome at 16 Missouri state parks where equestrian trails often wind through wilderness settings.
Dr. Edmund A. Babler Memorial State Park near St. Louis has a 6-mile trail that takes riders by the historic stables, an outstanding example of the beautiful stonework done by the Civilian Conservation Corps in the 1930s.
Riders are welcome at Sam A. Baker State Park on portions of Mudlick Trail, which goes through the St. Francois Mountains, one of the oldest mountain regions in North America. The trail goes from Big Creek Valley to the top of Mudlick Mountain.
Castlewood State Park has two equestrian trails: the popular Chubb Trail, which connects to two St. Louis County parks, and Castlewood Loop Trail, which is accessed via Chubb Trail.
At Crowder State Park, Thompson River Trail, on the open low-lying flood plain of the Thompson River, is open to riders. Cuivre River State Park allows equestrian use on both loops of Cuivre River Trail.
Riders can enjoy some of the state park system's most spectacular scenery on the 10-mile Goggins Mountain Equestrian Trail at Johnson's Shut-Ins State Park. The trail passes through a 5,000-acre wild area with several rocky creek crossings
Horses are permitted on the section of Katy Trail State Park between the State Fairgrounds at Sedalia and Clinton, and from Portland to Tebbetts. Equestrian use is also allowed on the section of Rock Island Trail State Park between Windsor and Purvis Road outside of Pleasant Hill.
Lake of the Ozarks State Park has three horseback-riding trails, including the 13.5-mile Trail of Four Winds, which crosses almost every kind of natural community in the park. Knob Noster State Park has an equestrian trail system, and 12.75 miles of Lake Wappapello Trail is open to horses.
Another long ride that passes through remote, wild areas is the 10-mile-long Peewah Trail at Trail of Tears State Park.
Horseback riding is permitted on the 8.5-mile Gans Creek Wild Area Trail in Rock Bridge Memorial State Park only when the trail is dry. The trails at Route 66 State Park mostly follow old roadways, so riding is permitted in all weather.
St. Francois and St. Joe state parks have extensive riding areas, and Watkins Woolen Mill State Park and Historic Site has a 4-mile equestrian system.