Meramec River Retreat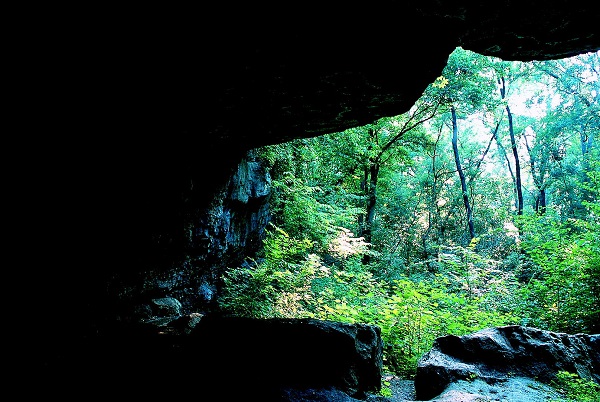 The pristine beauty of the Meramec River and its surrounding bluffs, caves and forests were recognized as supreme natural treasures very early in the state park system. As early as 1926, land was being purchased to create what is now Meramec State Park.
In 1933, the craftsmen of the Civilian Conservation Corps began constructing trails, picnic shelters and other facilities at the park. Nine years of CCC work left Meramec State Park with a collection of comfortable facilities that blend into the rugged landscape with their rustic design.
The park's natural heritage is as rich as its abundant cultural heritage. Several miles of picturesque riverbank scenery are preserved in the park, providing a haven for river wildlife and recreation. Hidden within the park's expansive forest are several springs and more than 40 caves.
Naturalist-led tours of Fisher Cave, offered on a seasonal basis, provide an interesting adventure for park visitors. From the low, narrow streamside passages to the huge rooms filled with calcite deposits, Fisher Cave offers one outstanding cave scene after another. Inside these rooms and passages are well-preserved bear claw marks, cave wildlife and a vast array of calcite deposits ranging from intricate hellectites to massive columns 30 feet tall.
Two natural areas – Meramec Upland Forest and Meramec Mosaic – provide unique features such as glades, woodlands, sinkholes and wet meadows. Rare plants, rare animals and rare opportunities for solitude are just a few of the reasons to explore this remote area of the park. Nature discovery programs are provided on a regular schedule at the outdoor amphitheater.
Water recreation opportunities are abundant at Meramec State Park. Float down the river in a canoe or raft and enjoy the scenery along the way. Weekday floats offer substantially more solitude than weekends. Canoe and raft rental is available in the River Stop Store and includes shuttle transportation, paddles and life jackets. People swim in the Meramec River at their own risk. Anglers can cast their lines into the river, which contains the greatest variety of aquatic life in Missouri.
For a closer glimpse of the scenic Meramec River valley, hiking trails wind throughout the wooded areas, past cave entrances and along the river. Eight primitive backpacking campsites are located along Wilderness Trail. Numerous shaded picnic tables and pavilions provide a great place to hold family gatherings, eat lunch or just rest.
For overnight visitors, camping opportunities vary from remote primitive backpack sites to recreational vehicle sites with sewer, water and electric connections. Hot showers, modern restrooms, a coin-operated laundry and a sanitary dump station are available to all campers. Cabins scattered across the hillside overlooking the valley are heated and air-conditioned and come complete with linens, cooking utensils and dishes. Guest accommodations also include a motel and a conference center. Lodging rental is coordinated at the Fireside Store and Grill, which also has picnic supplies, toiletries, tackle, souvenirs and firewood.
Dining is available at the Fireside Store and Grill, which is located inside the park store. Hours vary by season.
Located near the park entrance is the visitor center. Here, guests will find additional literature, exhibits and a slide show to obtain an overview of the park's natural, cultural and recreational resources. Many of the center's exhibits focus on the Meramec River. Large aquariums display the amazing variety of aquatic life found in the river from a closeness that one otherwise might not experience. The exhibit also includes a life-size riverbank diorama.