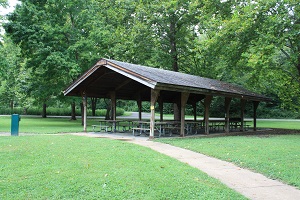 For your next large gathering of family or friends, reserve one of the park's four picnic shelters. Each can be reserved for $45 per day. If not reserved, the shelters are available at no charge on a first-come, first-served basis. Shelters I, II and III are located in the picnic area; Overlook Shelter is located near the Hickory Ridge Conference Center.
Shelter I is a stone Civilian Conservation Corps structure. It includes double fireplaces, electric outlets, lights on a timer and large group picnic tables. The tables are secured and cannot be moved.
Shelters II and III are modern, pavilion-type structures. Each has an electric outlet and group picnic tables. There are no lights; the tables are secured and cannot be moved.
Overlook Shelter has a pavilion-type roof with modern wood decking and overlooks the river valley. It has an electric outlet, a single small light and six picnic tables. The tables can be re-arranged for use.
To reserve a shelter, contact the park to check for availability by calling 573-468-6072. If available, fill out the Shelter Reservation Application and mail it to the park for approval. Submission of this application does not guarantee reservation of the shelter.
The kids will stay entertained with the park's three playgrounds. One is located in the picnic area near Shelter III, one is near the conference center and the other is located in the campground near showerhouse #1.