Sedalia's Castle on the Hill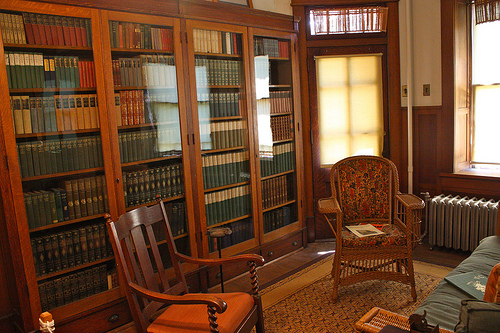 It took 31 years and four building phases to complete the 12,000-square-foot Bothwell Lodge, which contains 31 rooms on three levels (the tower has four) that illustrate many cultural and architectural changes of the period from 1890 through 1929. This imposing structure was positioned to command a broad view and has become a landmark in Pettis County along Highway 65. Bothwell Lodge was an appropriate gift to the state from a man who brought so much to his adopted state.
Born Nov. 20, 1848, in Maysville, Illinois, John Homer Bothwell moved to Sedalia in 1871 and opened his first law office. From the time of his arrival in Sedalia, Bothwell promoted the community. On the local level, he was president of the Sedalia Board of Trade and the Sedalia National Bank as well as serving as an assistant prosecuting attorney. He represented the Sedalia area for eight years as a legislator to the Missouri General Assembly and unsuccessfully ran for governor in 1904. His influence helped to make Sedalia the permanent location for the Missouri State Fair.
In hopes of saving the wooded hilltop for future generations, Bothwell purchased the property that he called Stonyridge Farm in 1896, now the home of Bothwell Lodge State Historic Site. Frustrated that much of the timber on top of the ridge had been cut, Bothwell spent years restoring the native vegetation. Bothwell built a trail along the wooded slope surrounding the lodge. Visitors hiking Stonyridge Trail will pass by one of three rock quarries, a stone gazebo and a small three-sided stone shelter used as a resting spot.
Built out of native rock from the estate grounds, the lodge was constructed over three natural caves and is an example of the Arts and Crafts style of the early 20th century. In the tower section, a workshop houses the man-made opening to a cave below. This shaft links the cave to a stairwell that goes up through the house. Some rooms have windows and doors that open to the stairwell to draw cool cave air into the house. Each phase of construction exhibits differing details, such as window styles, trim and light fixtures.
Bothwell's eclectic, simple furnishings, most of which remain in the lodge today, created an informal atmosphere that reflected his intentions to use the house as a recreational retreat for his friends. Bothwell enjoyed entertaining guests at Stonyridge Farm, which is evident from detailed, noted guest books that remain in the house.
The lodge features hardwood floors throughout that wind through French doors, up several staircases and lead to 11 bedrooms and numerous other rooms. Passageways link different rooms and lends intrigue to the structure. In the music room, Bothwell's guests could play the piano or have a separate player unit do it for them. Today, Bothwell's private library is a favorite among visitors with its fine woodwork, cozy fireplace, inspiring view of the valley and Bothwell's extensive collection of books, including many early and limited edition books from the 1870s and 1880s.
Several outbuildings surround the castlelike house. A garage, built in 1917 to house Bothwell's Chandler roadster, was expanded in 1928 to hold four cars and a loft was added as sleeping quarters for chauffeurs. Bothwell's favorite cousin, who was a frequent visitor to Stonyridge, used the bungalow-style Cliff House, built in 1928. A farmhouse, completed a few years after Bothwell's death, was used as a caretaker's cottage during the Bothwell Lodge Club days.
Bothwell died in 1929, leaving his estate to a group of friends and relatives he called "The Bothwell Lodge Club," who used it until 1969 when it was offered to the state of Missouri. In 1974, the state acquired the property and began development of Bothwell Lodge State Historic Site, which is administered by the Missouri Department of Natural Resources.
Today, visitors can tour Bothwell's lodge and enjoy the natural beauty of Stonyridge Farm while hiking Stonyridge Trail. A picnic area, complete with picnic tables, a shelter and playground equipment, provides the perfect location for a quiet picnic lunch or a gathering place for friends and family similar to gatherings hosted by Bothwell himself. The newest trail, Radiant Trail, provides challenging hiking or mountain biking for outdoor enthusiasts.