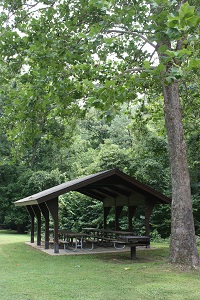 Relax and enjoy a picnic lunch at one of the numerous picnic sites scattered throughout the park. Some are accessible to people with disabilities.
Picnic Shelters
For larger groups, there are also two picnic shelters available for use. If not reserved, the shelters are available at no charge on a first-come, first-served basis.
Greens Ferry Shelter is the smaller of the two shelters. This shelter is near the Bushyhead Memorial and can seat approximately 40 adults. It has vault toilets, a fireplace and six tables. It can be reserved for $35 per day.
Wescoat Shelter can seat approximately 100 people. It has modern restrooms, water, electricity, lights, two fireplace grills, 14 tables and a playground nearby. (This ares has potential for flooding from March to June). Wescoat Shelter can be reserved for $65 per day. This shelter is accessible to people with disabilities. However, the nearest accessible restroom is the vault toilet in Mississippi River Campground.
Shelter Reservations
To reserve a shelter, visit our reservation page, or contact the park to check for availability by calling 573-290-5268.
Playgrounds
Two playgrounds are located within the park. One is located next to Wescoat Shelter and the other is in the lake picnic area.