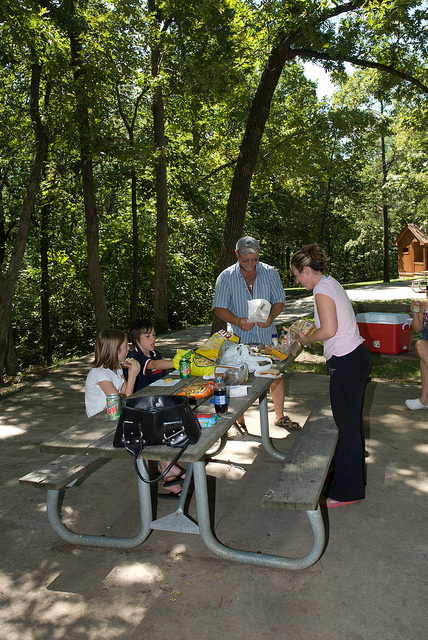 Bring along a picnic lunch as there are more than 60 picnic sites located within Thousand Hills State Park.
Picnic Shelters
For larger groups, there are four open shelters and one enclosed shelter. The shelters provide a perfect venue for hosting large family gatherings or special outings and can be reserved in advance for a fee.
The enclosed shelter can be reserved for $95 per day and has an occupancy limit of 75 people. The shelter includes two grills, 12 tables, benches, a stove, refrigerator, electricity and a restroom facility with water on location. This shelter is accessible to people with disabilities.
Point Shelter, an open shelter that accommodates up to 69 guests, includes two grills, a children's playground facility, electricity and water. The reservation rate is $75 per day. A flush restroom is nearby.
Shelter 2 and Shelter 3 can be reserved at a rate of $45 per day. They accommodate 36 and include outdoor grills.
Beach Shelter can accommodate up to 48 people and is accessible to people with disabilities. It has a water hydrant and group grill and there is a vault toilet nearby. It can bee reserved ro $45 per day.
If not reserved, all open shelters are open to park visitors at no charge on a first-come, first-served basis.
Shelter Reservations
To reserve a shelter, contact Kolb Concessions, LLC, at 660-665-7119 to check availability.
Playgrounds
Children's playground facilities are located near Point Shelter, in Campground 1 and in the main day-use picnic area.