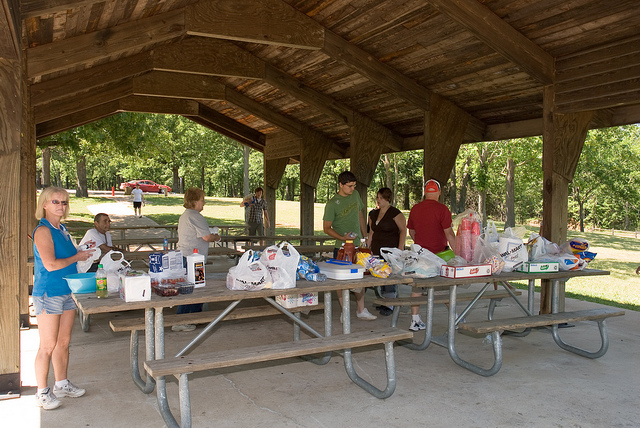 Relax and enjoy a picnic lunch at one of several picnic sites with tables and grills located in the Pim Day-Use Area. For your convenience, there are vault toilets, water and a children's playground in this area. From this area, you can hike Lakeview Trail to access Monsanto Lake and beach.
Picnic sites with grills are also available at the equestrian and ORV staging areas as well as at Pim Lake. Picnic tables only are provided at the Blankshire and Harris Branch trailheads and at Monsanto Lake.
Picnic Shelters
There are six picnic shelters in the park perfect for family gatherings or special outings. St. Joe State Park offers two shelters – shelters 1 and 2 – located at the Pim Day-Use Area that visitors can reserve. A third reservable shelter – Shelter 6 – is located at Monsanto Lake. All three shelters are rented on a full-day basis, 7 a.m. to 8 p.m. April through October and 7 a.m. to 5 p.m. November through March. The cost is $35. These shelters include picnic tables and a large grill at each. If not reserved, these shelters are available at no charge on a first-come, first-served basis. The other three shelters – 3, 4 and 5 – are available for no charge on a first-come, first-served basis. See details of each shelter below.
Shelter Reservations
To reserve shelter 1, 2 or 6, or to check for availability, visit our reservation page* or contact the park at 573-431-1069.
*Shelters can be reserved online from 30 days to 12 months in advance of the day of use. Reservations for arrival dates less than 30 days out can be made only by contacting the park.
Playgrounds
Playgrounds are located in the Pim Day-Use Area for all park users and in Campground 1 for use by registered campers.