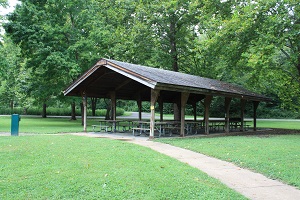 Enjoy lunch at one of nearly 40 picnic areas scattered throughout the day-use area. Many offer pedestal grills.
Picnic Shelters
For your next large gathering of family or friends, reserve one of the park's four picnic shelters. Each can be reserved for $50 per day. If not reserved, the shelters are available at no charge on a first-come, first-served basis. Shelters I, II and III are located in the picnic area; Overlook Pavilion is located near the Hickory Ridge Conference Center. Water fountains are located in several areas near shelters I, II and III.
Shelter I is a stone Civilian Conservation Corps structure that can accommodate approximately 100 people. It includes double fireplaces, electric outlets, lights on a timer and large group picnic tables. The shelter is accessible to people with disabilities and has accessible restrooms (seasonal) nearby. The tables are secured and cannot be moved.
Shelters II and III are modern, pavilion-type structures, which can accommodate approximately 75 people and are accessible to people with disabilities. Each has an electric outlet and group picnic tables. There are no lights; the tables are secured and cannot be moved. A accessible vault toilet is just across the parking lot from Shelter II. Accessible modern flush restrooms (seasonal) are within 100 yards of each shelter.
Overlook Pavilion has a pavilion-type roof with modern wood decking and overlooks the river valley. It has an electric outlet, a single small light and six picnic tables, which can accommodate approximately 50 people. The tables can be rearranged for use. Restrooms (seasonal) are located just off the parking lot at the top of the hill and are accessible. Reservations for the overlook pavilion can be made by contacting the concessionaire at 573-468-6519 or visiting their website.
Shelter Reservations
Overlook Pavilion can be reserved by contacting the concessionaires at 573-468-6519 or by visiting their website. To reserve shelter I, II or III, or to check for availability, visit our reservation page* or contact the park at 573-468-6072.
*Shelters can be reserved online from 30 days to 12 months in advance of the day of use. Reservations for arrival dates less than 30 days out can be made only by contacting the park.
Playgrounds
The kids will stay entertained with the park's two playgrounds. One is located in the picnic area near Shelter III and one is located in the campground near Showerhouse #1.