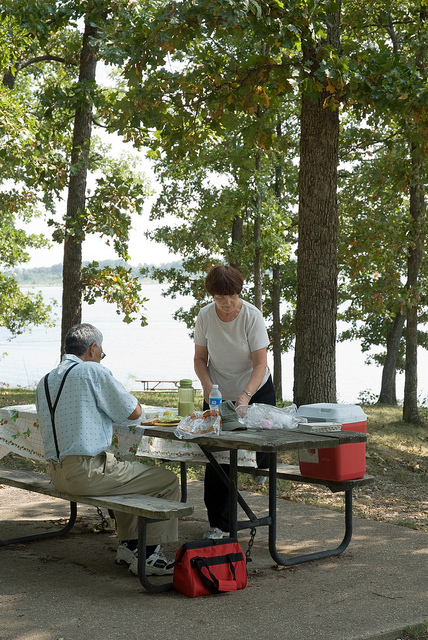 The eastern end of the park provides you with an opportunity to relax at one of the many shaded picnic sites. The picnic areas are open May through September.
Picnic Shelter
This section of the park also has an open shelter, which can be reserved at a rate of $40 per day, and is perfect for large family gatherings and special group outings. The shelter can accommodate approximately 130 guests and is equipped with picnic tables, two large outdoor grills, electricity and restroom facilities nearby. It is accessible to people with disabilities. If not reserved, the shelter is available at no charge, on a first-come, first-served basis.
Shelter Reservations
To reserve the shelter or check for availability, visit our reservation page* or contact the park at 660-438-7711. 
*Shelters can be reserved online from 30 days to 12 months in advance of the day of use. Reservations for arrival dates less than 30 days out can be made only by contacting the park.
Playgrounds
Children's playgrounds are located in the vicinities of the campground and the open shelter.