Camping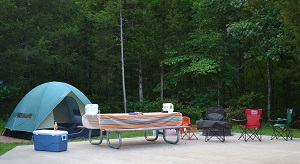 Johnson's Shut-Ins State Park offers walk-in, basic, electric, sewer/electric/water and equestrian electric/water campsites. The park also has a special-use camping area near Loop 5.
Stop by the campground store, conveniently located in the center of the campground, to stock up on whatever you need for your camping experience.
To make a reservation or view campsite details, photos and availability, go to the reservation website by clicking the "Make a Reservation Now" link below. Reservations may also be made by calling toll free 877-ICampMO (877-422-6766). Printable campground maps are available for your reference by clicking on the "Map" links.
Individual Campground Information

Campground

Available Dates

Water Available

Types of Sites

Loop #1 (Equestrian)

(Map)

Year-round
April 1-Oct. 31
April 1-Oct. 31
Electric/Water*
Loop #2 (Map)
Year-round
April 1-Oct. 31
April 1-Oct. 31
Sewer/Electric/Water*
Loop #3 (Map)
Year-round
Year-round
April 1-Oct. 31
Electric*
Loop #4 ((Map)
Year-round
April 1-Oct. 31
April 1-Oct. 31
Basic
Loop #5 (Map)
Year-round
April 1-Oct. 31
April 1-Oct. 31
Walk-in
* Premium Electric sites available
**Starting now, make reservations for stays beginning Jan. 1, 2019. Reservations will be accepted year round in 2019.
Click here for a guide to the symbols.
Important Camping Information:
The campground is fully reservable.
Reservable sites may be available to first-come, first-served users on a day-by-day basis if the site is not reserved. Before occupying a site, check with the park staff or follow the directions on the posted card.
For weekend reservations, there is a required two-night minimum stay of Friday/Saturday or Saturday/Sunday.
Loop 5 campsites have a wooden platform with room for one tent; straps or cords are recommended for securing your tent to the platform. Each of these campsites has a designated parking space in one of two lots; the terrain is rough and hilly from the parking lots to the sites.
Loop 1 campsites can be reserved by equestrian campers any time during the on-season. In addition, non-equestrian campers can reserve Loop 1 campsites from Memorial Day weekend through Labor Day weekend.
During the off-season (November through March), potable water is available at the frost-free water spigots by the Loop 3 showerhouse, Special-Use Camping Area showerhouse and the camper cabin showerhouse. The restroom and showerhouse in Loop 3 remains open year-round.
Campers planning to carry in firewood must comply with current firewood advisories.
Other Types of Camping Areas Available in the Park: