Camping
Missouri State Parks campgrounds are open with a number of social distancing measures in place to improve the safety of operations for Missouri State Parks' guests and staff. For more information, view our full release here.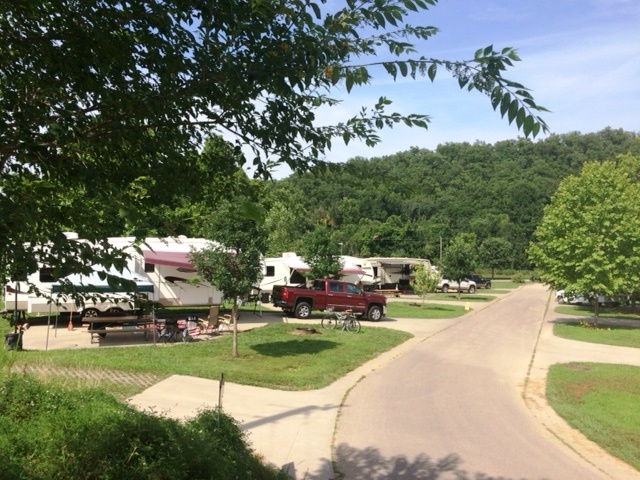 Five campgrounds nestled in the wooded hills of the park offer a variety of camping options, from basic to sewer/electric/water sites. If you need some extra space, there are also family campsites available.
Stop by the park store to stock up on whatever you need for your camping experience. Campground hosts are available close by to assist and answer any questions.
To make a reservation or view campsite details, photos and availability, go to the reservation website by clicking the "Make a Reservation Now" link below. Reservations may also be made by calling toll free 877-ICampMO (877-422-6766). Printable campground maps are available for your reference by clicking on the "Map" links.
Individual Campground Information

Campground

Available Dates

Water Available

Types of Sites

#1 (Map)
Year-round
April 15-Oct. 15**
Feb. 25-Oct. 31
Sewer/Electric/Water*
#2 (Map)
April 15-Oct. 31
April 15-Oct. 31
April 15-Oct. 31
Electric, Family
#3 (Map)
April 15-Oct. 31
April 15-Oct. 31
April 15-Oct. 31
Basic, Electric
#4 ((Map)
Feb. 25-Oct. 31
Feb, 25-Oct. 31
Feb. 25-Oct. 31
Electric
#5 (Map)
Feb. 25-Oct. 31
Feb. 25-Oct. 31
None
Basic and Electric
Click here for a guide to the symbols.
* Premium Electric sites available
**The showerhouse in campground 1 is open year-round. Water at the individual campsites is available April 15 through Oct. 15.
Important Camping Information:
Reservations for Bennett Spring State Park have no minimum stay requirement.
Reservable sites may be available on a day-by-day basis if the site is not reserved. Before occupying a site, check with the park staff or follow the directions on the posted card.
Significant uphill travel is required to reach Campgrounds 2, 3, 4 and 5.
Campers planning to carry in firewood must comply with current firewood advisories.
Other Types of Camping Areas Available in the Park: