Park Trails
Equestrian Trail System
Trail Rating: Rugged
The Equestrian Trail System travels through an area of oak-hickory woodland on its west side and scattered stands of red cedar on the east side. White connector 1 on the north end follows a ridge on a gentle slope down to a creek. Multiple routes can be taken as the white connector joins the trail at several points to shorten or extend the hike or ride.
A point of interest is the eight-sided Franklin School and the Mt. Vernon Church on the north end of the trail loop. Both of these buildings date back to the early 1870s; they are separated from the equestrian trail by a fence. Feel free to tie up the horses and walk over for a closer look.   
Watch for loose rocks and steep slopes over 10 percent when approaching the two creek crossings. Some trail areas may be rutted, particularly on the extreme northwest and northeast sections. Trail conditions will be muddy after moderate rain and snowfall.
The parking lot accommodates eight to 10 horse trailers and has two picnic tables nearby. There is no water; horses may be watered at two creek crossings depending on the season. A vault toilet is located in the parking lot of the nearby group camping area. The trail is open from 8 a.m. to sunset.
Equestrian camping is not available. Please stay on designated trails and do not ride on roads or paved trails. Bicycles are prohibited and state law requires dogs to be leashed. Please pack out your trash and report any down trees or limbs to park staff.
You may experience:
Natural surface, dirt, mud, gravel, shifting rocks, slippery surface, etc.
Rocks, roots and/or downed vegetation on trail        
Steep grades and inclines more than 10 percent
Water/stream crossings without bridges
| Length | Estimated Hiking Time | Type | Blazes | Trailhead |
| --- | --- | --- | --- | --- |
| 3.5 Miles | 1 hour per mile | Loop | Red | On the east side of the park off Endsley Road, 1.7 miles north of Highway RA |
Paved Bicycle Lake Trail
Bicycling/Mountain Biking

Hiking
Trail Rating: Easy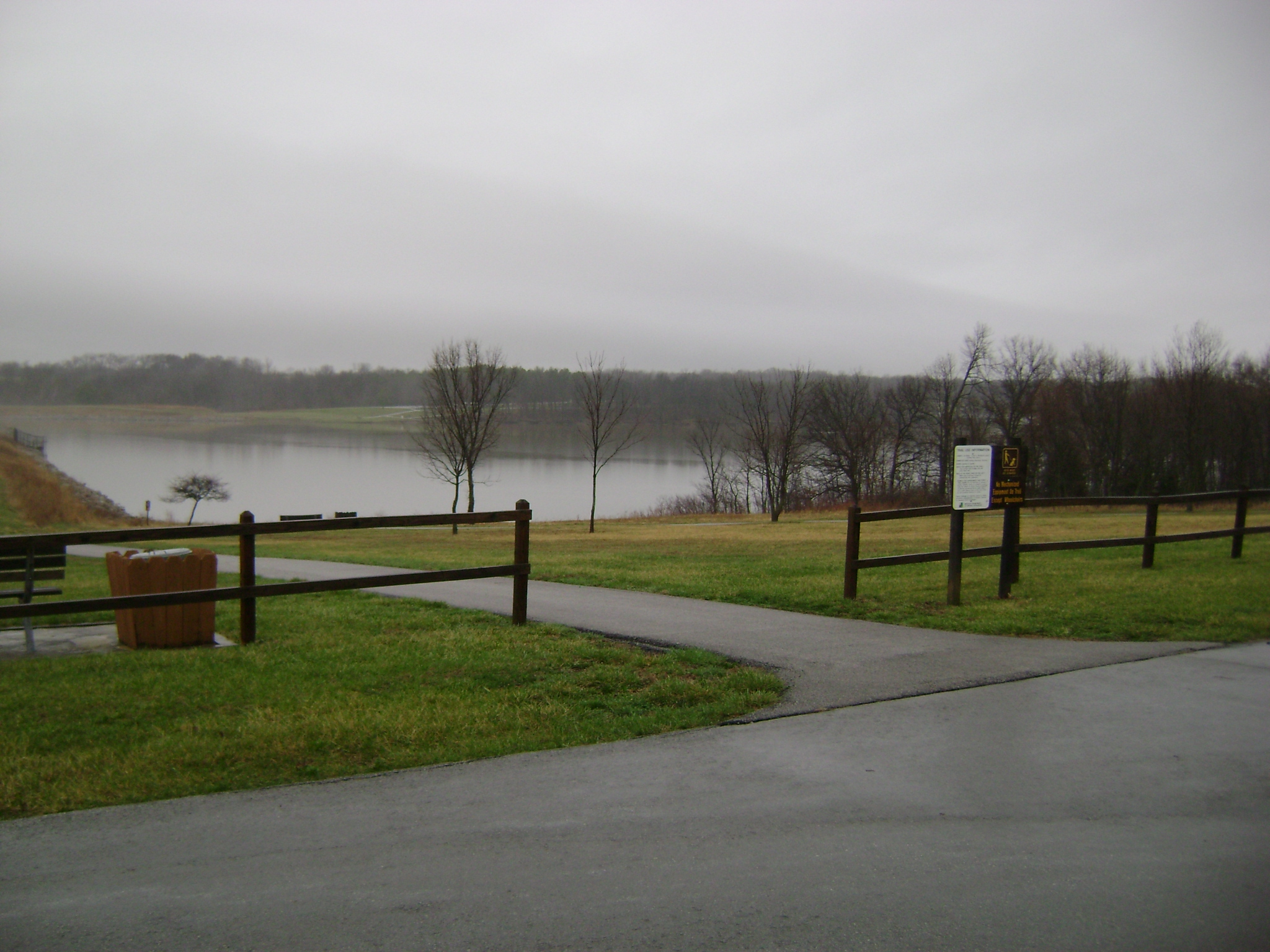 The 8-foot-wide Paved Bicycle Lake Trail circles the 100-acre Williams Creek Lake and has six wooden bridges and one metal truss bridge. The trail has a moderate grade as it meanders through an oak-hickory woodland with openings that offers vistas of the lake.
Deer, turkeys and songbirds often can be seen along the trail. In winter, geese and occasionally bald eagles can be seen on the ice or flying over the lake.
A point of interest is the seasonal waterfall in Williams Creek, about 2,000 feet north of the swim beach. A wooden overlook deck provides an opportunity to rest and enjoy the peaceful setting. Park benches are scattered along the trail to serve as rest stops. A .25-mile gravel spur leads to the park's special-use area.
Be alert for some hazards on the bicycle trail. The narrow, wooden bridges are slippery when wet or ice covered, and some are located on blind corners.  Reduce bike speed when approaching them, and anticipate pedestrians being in the middle of the path.  In some locations, the pavement edge drops off sharply. Watch for moss at trail edges, water seeping across the path and sunken or uneven trail surfaces.
You may experience:
Slippery conditions and/or downed vegetation
Bridges and/or structural crossings
Occasional water over trail
| Length | Estimated Hiking Time | Type | Blazes | Trailhead |
| --- | --- | --- | --- | --- |
| 3.75 Miles | 1 hour, 55 minutes | Loop | Yellow | 1) on the east side of the dam near campground 1; 2) on the west side of the dam on the road to the picnic shelter; 3) at the boat ramp parking area; 4) at the beach parking area; 5) at the Williams Creek picnic area |