Due to the flooding along the Missouri River and Katy Trail State Park over the past month, Missouri State Parks has made the difficult decision to cancel the 2021 Bicentennial Katy Trail Ride. There are nearly 100 miles of Katy Trail State Park that were impacted with flood damage including washouts, bridge damage, downed trees, debris, silt accumulation and inconsistent trail surfacing. We currently have teams working on repair daily but will need additional time to make all the needed repairs.  
For more information, email katytrailride@dnr.mo.gov or call Missouri State Parks toll-free at 800-334-6946.
To commemorate Missouri's bicentennial, Missouri State Parks invites you to join them on Aug. 7, 2021, for a century ride on the Katy Trail. Not ready for a century ride? Check out our family-friendly 25-mile Bicentennial Fun Ride. 
200 cyclists + 200 miles = Bicentennial Ride
The Bicentennial Ride will combine two century rides for a unique way to kick off the Missouri bicentennial commemoration. A group of 100 cyclists will depart from St. Charles and ride to North Jefferson. A second group of 100 cyclists will depart from Windsor and ride to North Jefferson. Both groups will camp in Memorial Park in Jefferson City and have an opportunity to enjoy live music at Jefferson Landing State Historic Site and dinner in downtown Jefferson City. Sunday morning will include breakfast and an optional return shuttle to your original trailhead.
Riders Receive:
Breakfast on Saturday and Sunday.
Lunch on Saturday.
Optional outdoor camping spaces on Friday and Saturday night.

Friday, Aug. 6: Frontier Park, St. Charles.
Friday, Aug. 6: Farrington Park, Windsor.
Saturday, Aug. 7: Memorial Park, Jefferson City.

Hot shower facility.
Gear shuttle.
Detailed route map.
SAG support.
Bicentennial Ride T-shirt.
Bicentennial water bottle.
Commemorative item.
30th Anniversary Bike Jersey (pictured below).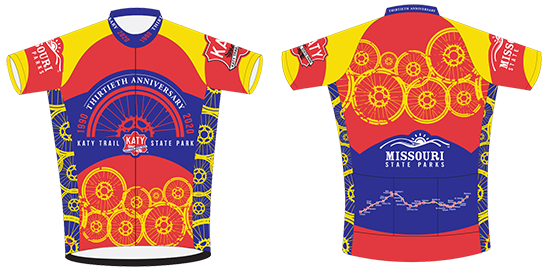 Sizing Chart
 
S
M
L
XL
2XL
Chest
36-37
38-39
40-41
42-44
45-46
Waist
29-31
31-33
33-35
36-39
40-43
Weight
120-145
145-170
170-190
190-220
220-250
Height
5'4"-5'8"
5'7"-5'11"
5'10"-6'2"
6'1-6'5"
6'3"+
Sizing provided by Peak 1 Sports
Route Description
Windsor to North Jefferson (approximately 105 miles)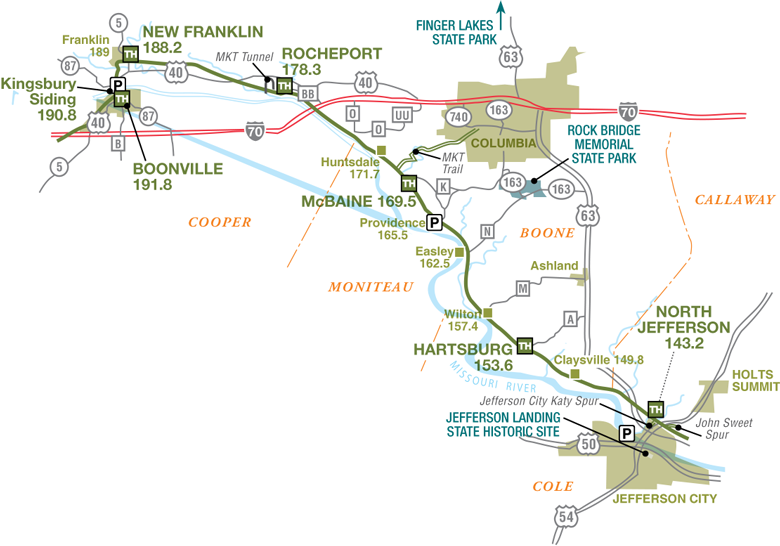 St. Charles to North Jefferson (approximately 104 miles)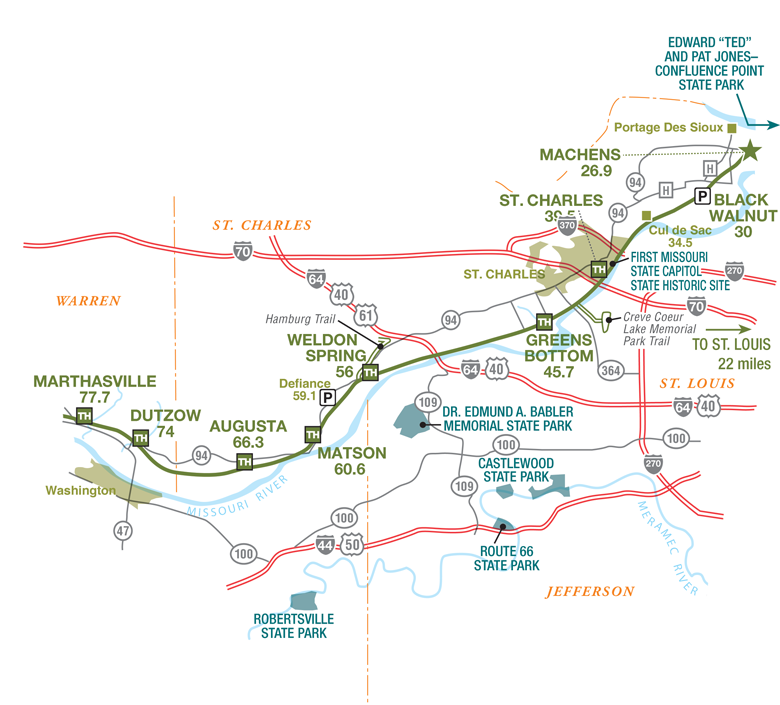 Meals
Every participant will receive breakfast on Saturday and Sunday; box lunches will be provided on Saturday along the trail. Dinner on Saturday night will be on your own in downtown Jefferson City. 
Packet Pickup
Packet pickup will be at the ride information booths at the Katy Trail trailhead in Windsor and First Missouri State Capitol State Historic Site backyard, from 3 p.m. to 9 p.m. on Friday, Aug. 6, and from 6 a.m. and 7:30 a.m. The packet will contain the map booklet.
Non-Transferrable Registration
Bicentennial Ride registrations are non-transferrable to any other person(s) for any reason at any time. If a cancellation is necessary, please follow the refund procedures. 
Refunds
Written cancellations emailed by July 15 will receive a refund, minus a $25 cancellation fee. No refunds, for any reason, will be made for cancellations or no-shows occurring after July 15. Cancellations can be sent to
katytrailride@dnr.mo.gov
.
Return Transportation
For an additional $70, you (plus your bicycle and baggage) can be transported on a comfortable air-conditioned motor coach from Jefferson City to your original trailhead.
Hotel Shuttle
Hotel shuttle service is available for those who choose not to camp. The shuttle will take participants to and from North Jefferson Trailhead. Shuttle times will be provided at the information booth during check-in on Friday night and Saturday morning.
The shuttle service is $20; this price is only for those who pre-register.
T-shirts
All participants will receive a 2021 Bicentennial Ride T-shirt as part of their registration. Additional T-shirts may be ordered separately for $20 each.
Support and Gear
SAG stops will be located approximately every 10 miles along the route to provide water, fruit and moral support. Because of the length of the route, logistics of the Katy Trail and any unforeseen weather conditions, the SAG may not be accessible at all times.
Supply Shuttle
Trucks will transport riders' luggage and equipment from the trailhead to Memorial Park in Jefferson City. Each rider is allowed one bag. Please do not use plastic totes to haul luggage, as these may become cracked or damaged. Nothing may be attached to the outside of your bag; everything but your helmet must fit into the bag. 
Rules and Regulations
Helmets: All riders are REQUIRED to wear helmets.
Minors: An adult (preferably a parent or guardian) must accompany participants under the age of 18. No bicycle trailers hauling children will be allowed unless accompanied by private SAG support.
Overnight Camping: Participants must obey all of the rules for Memorial Park in Jefferson City.
Dogs: Only service animals are allowed during the ride; proper documentation may be required at check-in. It is not advised to bring a dog on the ride, as the weather conditions in Missouri in August can be unpredictable. You must contact ride coordinators at time of registration if you will have a service animal during the ride.
Plan Ahead
The Bicentennial Bike Ride is geared toward the intermediate cyclist. Good physical conditioning will make the ride much more enjoyable. The ride will cover approximately 100 miles in one day and may be strenuous. All riders will be expected to complete the ride, except for true emergencies. Before the ride begins, ride as many miles as possible and ride as often as your schedule allows. Long rides of 60-80 miles are important, as are a series of back to back rides. You should experience cycling in all types of weather and on similar surface terrain as the Katy Trail. August weather in Missouri is unpredictable. It may be hot (in the 90s), humid, windy or rainy. The surface of the Katy Trail is packed crushed limestone. Mountain bicycle and hybrid bicycle tires are best suited for the trail.
Fees:
Registration: $200.
Return shuttle: $70.
Hotel shuttle: $20.
T-shirt (a T-shirt is included with registration; however, participants may order additional T-shirts). 
Contact Us/Questions:
Please email katytrailride@dnr.mo.gov with any questions or concerns.
This is one of many events Missouri State Parks is hosting to commemorate the state's bicentennial. To see a complete list of bicentennial-related events and learn more the commemoration, click here.