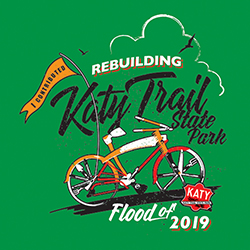 Severe flooding at Katy Trail State Park has led to numerous trail closures within the park and the cancellation of the 2019 Katy Trail Ride.
Nearly 100 miles of trail are underwater, and it may take several weeks for the water to recede in some parts of the trail. Based on the damage caused by the comparable flood of 1993, Missouri State Parks staff expects to find scour holes, washouts, bridge damage, downed trees, debris, silt accumulation and inconsistent trail surfacing. 
You can help rebuild the trail and accelerate the restoration process by making a donation below to the Missouri State Parks Foundation. Everyone who donates $100 or more will receive a T-shirt commemorating their role in rebuilding this Missouri treasure. Your assistance is greatly appreciated.