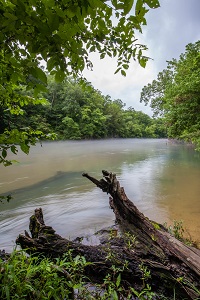 Much of the area around Current River State Park exhibits the heavily wooded rolling hills, rugged karst topography, bubbling springs and clear rivers and streams distinctive to Ozark landscapes. The nature of the landscape prevented much large-scale development and agriculture and was, to a large extent, responsible for preserving the area's wilderness quality and scenic beauty.
The Current River Hills, a rugged and picturesque subsection of Missouri's Ozark Highlands, form the heart of the one of the most heavily wooded landscapes in the modern Ozarks. Native oaks and shortleaf pines cloak the steep-sided valleys that sometimes exceed 500 feet deep. Within these valleys lie fens, bluffs, sinkhole ponds, springs and caves with a biological richness that includes more than 170 rare species and at least 30 species that are mostly unique to the area. The centerpiece is the exceptionally clear Current River and its many tributaries. With its abundant aquatic fauna, it is noted as one of the Midwest's most biologically significant waterways.
As the heart of one of the largest wooded areas in the Midwest, the area landscape is considered important to the long-term survival of interior birds and other woodland-dwelling wildlife. Being such a biologically rich area has led to further distinctions as part of an Audubon Important Bird Area, Outstanding State Resource Water and one of Missouri's Conservation Opportunity Areas with a focus on the woodland, karst, aquatic and special terrestrial natural communities.