Gateway to an Ozarks Experience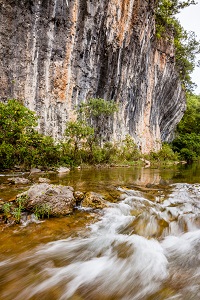 Echo Bluff State Park is a destination that features a stunning natural setting. Located deep in the Ozarks, the park is situated in a scenic valley with towering bluffs and hillsides covered in oak, hickory and shortleaf pine trees. The park's namesake, Echo Bluff, is the largest sheer bluff feature of the property. Just below this geologic wonder is Sinking Creek, a crystal-clear Ozarks stream that serves as the second-largest tributary of the Current River. The creek includes deep holes perfect for smallmouth bass fishing. Because it has fewer springs than the Current River, it is warmer for swimming and wading.  
The 476-acre park offers year-round opportunities for families and groups to experience the splendor of the Missouri Ozarks and the Current River. Comfortable, family-friendly accommodations provide the perfect basecamp for an adventure in the Ozarks. In addition to traditional family events, this newest state park is the perfect setting for business retreats and organizations looking to meet in a one-of-a-kind setting at any time of the year.
The park is just across Highway 19 from Current River State Park, which preserves a historic corporate retreat on the banks of the Current River. The park also offers hiking trails, fishing lakes and tours of the historic buildings. Surrounding Echo Bluff State Park on three sides is Roger Pryor Pioneer Backcountry, part of a private working forest owned by the L-A-D Foundation. The foundation donated a lease to Missouri State Parks for an extensive trail system that lets the public explore the backcountry's more than 62,000 acres. In addition, the park is in close proximity to Montauk State Park, a popular spot for trout fishing; the Ozark National Scenic Riverways, which preserves the Current and Jacks Fork rivers; Mark Twain National Forest; and several state conservation areas. With so many nearby options to explore, Echo Bluff State Park serves as the base for a complete Ozark experience.