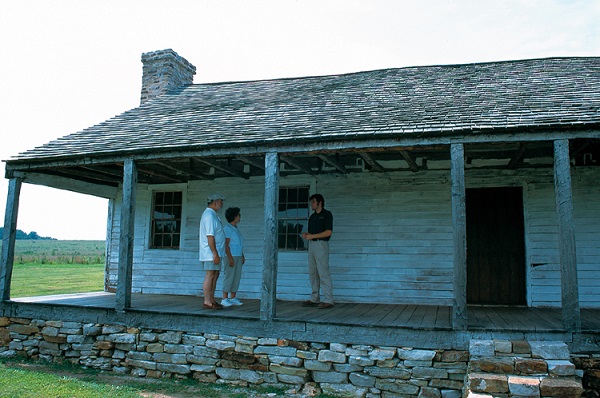 As of Friday, June 5, 2020, Nathan and Olive Boone Homestead State Historic Site is open for the public with recommended safety precautions and social distancing measures in place. Tours are offered at 11 a.m., 1 p.m. and 3 p.m. on Friday and Saturday; 1 p.m. and 3 p.m. on Sunday. Tour sizes will be limited to groups of 6 or fewer, unless from the same family. Guests will need to use the office walk-up window to pay for tours. The walk-up window will open 30 minutes prior to departure time. For more information on the health and safety measures in place, visit https://mostateparks.com/response.
Take a guided tour of Nathan and Olive Boone's home during normal hours.
A variety of special events are held each year interpreting the Boones' lives.
Tour Fees:
Fees include tax. Qualified tax-exempt organizations MUST provide a copy of a tax exempt certificate at the time of payment.
Adults (18 and older): $4
Youth (Ages 6-17): $2.75
Child (Ages 5 and under): Free
Group Rates:
Adults (18 and older): $3.50
Youth (Ages 6-17): $2.25
Child (Ages 5 and under): Free