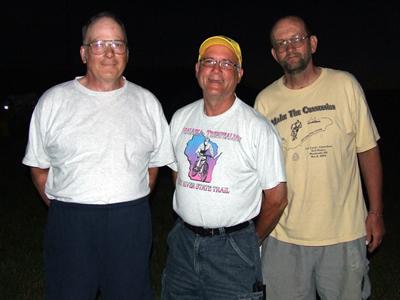 Norm Charlton, age 64, Albion, Iowa, first ride
Bob Rush, age 54, Melbourne, Iowa, second ride
Case Hegeman, age 53, Marshalltown, Iowa, first ride
What made you first become interesting in participating in the Katy Trail Ride?
Hegeman: We are all avid trail riders and finding tails that are long and scenic is our thing.
Rush: We get together and try to figure out places to ride and the Katy Trail kept coming up, but for years we haven't been able to get the logistics to work out. This year, it just all came together and it was just "wow this is us." Last year, I came by myself and didn't know anyone and by the end of the first day, I was eating dinner with five complete strangers and having a blast.
What advice would you offer first year riders?
Charlton: Just bring you bike and ride. Beforehand you might train on this year's route since it's generally a little more of a downhill ride.
Hegeman: Be prepared to have fun!
Rush: Don't be afraid to make new friends!
What has been your favorite thing so far on this year's ride?
Charlton: The awesome food! Not just what's been provided at camp but also the restaurants along the trail have been really great.
Hegeman: I've been on many organized rides, and this is one of the longest and I'm very impressed with how well organized this ride has been.
Rush: I just like the whole package. My goal on this vacation is to ride my bike every day and have someone else make my food, so I'm pretty happy.