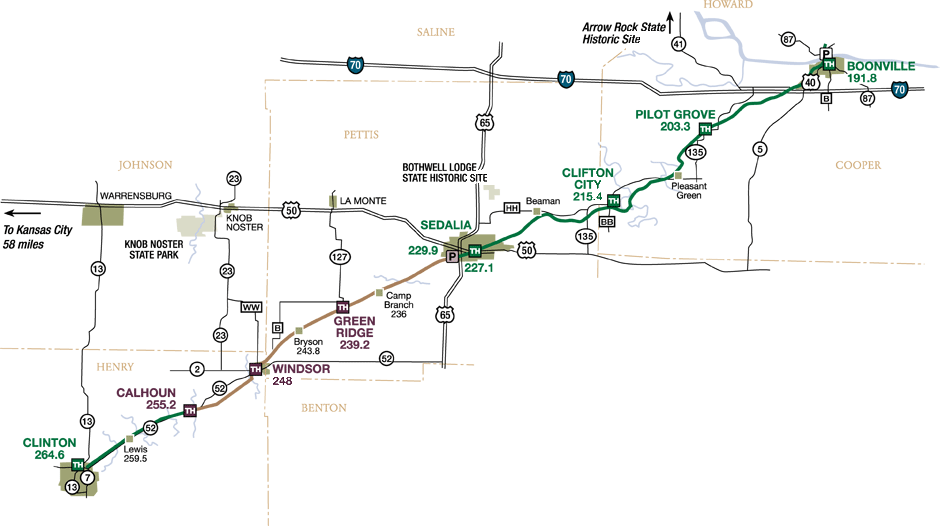 View the Boonville to Jefferson City section -->
Depending on your preference, Katy Trail State Park begins or ends in Clinton, the seat of government for Henry County. Much of the route from Clinton to Sedalia traverses lands once dominated by prairie. Although most of the land has been converted to farmland, prairie plants such as big bluestem or compass plant can still be seen along the trail. An area along the 9-mile section between Calhoun and Clinton is being restored to tallgrass prairie through the use of controlled burns. Hikers and bicyclists are likely to see or hear birds associated with open areas, such as bobwhite, killdeer, mourning doves and meadowlarks.
Horses are permitted on the stretch of trail between Clinton and the Missouri State Fairgrounds Katy Trail parking area in Sedalia. This is a multiple-use section of the trail, and bicyclists should yield to both equestrians and pedestrians. Pedestrians should yield to horses, also.
The town of Sedalia, which is the home of the Missouri State Fair, was once a hub of activity for the MKT railroad. The former MKT depot, one of the largest depots between Kansas City and St. Louis, is owned by the Department of Natural Resources. The Sedalia Convention and Visitors Bureau operates the restored depot as the Katy Depot Heritage Site. Katy Trail travels along city streets from the depot to Boonville Street. Users should follow the marked road route.
Between Sedalia and Boonville, the trail passes through several small communities that were influenced by the railroad, such as Clifton City and Pilot Grove. In this section, the terrain is more rolling, providing a variety of landscapes from pasture and row crops to deep woods and river bottoms. This is the transition from the Osage Plains into the Ozark borderlands, and bikers can expect to pedal more strenuously here because of the terrain.