Presidential Beginnings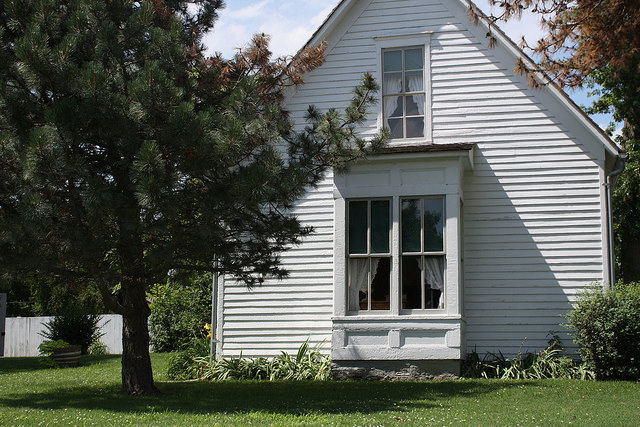 Even with the most humble of beginnings, true greatness shines through. In the rural Missouri town of Lamar, the 33rd president of the United States was born. Harry S Truman endeared himself to the citizens of the state through his genuine country manners and his down-to-earth sensibility. His character and will to fight the odds were instilled in Harry at a young age in the "Show-Me State."
Harry Truman's roots were firmly in Missouri. Both sets of his grandparents moved to a place called Westport Landing - later renamed Kansas City - in the 1840s. His parents, John Anderson Truman and Martha Ellen Young, were both born on farms in that area. After John Anderson and Martha Ellen were married in 1881, they moved to Lamar where John continued farming and dealing with livestock.
According to the official deed, in 1882, the Truman's purchased a 20-by-28-foot house for $685. On May 8, 1884, Harry S Truman was born in the downstairs southwest bedroom of the one and one-half story house. On that day, to celebrate the birth of his first child, John Anderson proudly planted an Austrian pine tree at the southeast corner of the house. The tree was removed in 2012 and a piece is on display in the site office.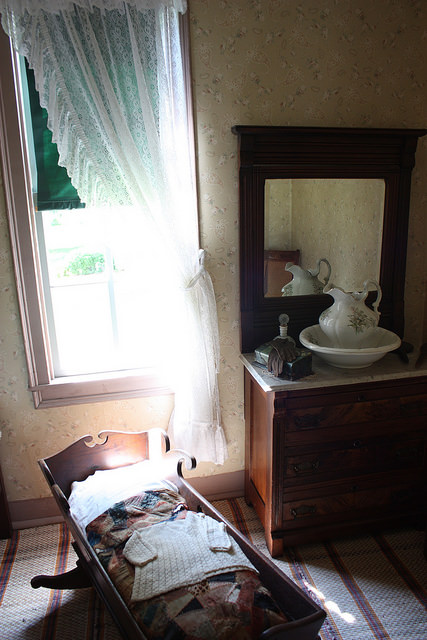 When Harry was 11 months old, the Truman family moved from Lamar and over the next six years, lived in Harrisonville, Belton and Grandview. In 1890, the family settled in Independence, where Harry started his formal education. He graduated from high school in 1901 but never went to college. He entered the work force so his brother and sister could complete their education.
The long, hard, tedious hours of farm work that Harry put in as a young boy helped shape his character and stuck with him the rest of his life. He was employed as a timekeeper for a railroad contractor in the mailing room of the Kansas City Star and worked in two banks. Returning to his rural roots, he left the cosmopolitan life in 1906 to help manage the family farm near Grandview.
Truman seemed content as a farmer during this period of his life. If it hadn't been for the major turmoil in Europe, and America's entrance into the war, he might have remained a farmer for life. Instead, in 1917, Truman joined the U.S. Army to fight in World War I. He was shipped to France and it was there, under the most trying of circumstances, that he displayed his extraordinary leadership ability. He was promoted to commander of Battery D, 129th Field Artillery. His detachment was engaged in some of the fiercest combat action of the entire war in the Battle of Meuse-Argonne.
After his discharge from the Army, he married his childhood sweetheart, Elizabeth "Bess" Wallace, on June 28, 1919, in Independence. Trying his hand in the business world once again, he and a partner opened a men's clothing store in Kansas City. The business initially showed moderate success but eventually failed. Truman's values and character stayed intact, however, as he spent the next decade paying off every dollar of his debt.
It was a chance encounter with James Pendergast, the nephew of Kansas City political boss Tom Pendergast, that started Truman up the ladder of politics. If not spectacular, his rise was steady. From his days as the eastern judge of the Jackson County Court, all the way to his two terms as president of the United States, Truman was always a unique and colorful political figure.
His list of White House accomplishments and controversies is legendary. He ended World War II with the atomic bomb. He enlisted Gen. Douglas MacArthur, a World War II hero, to "police" Korea during the Korean War and then fired him for his aggression. He integrated the U.S. military at a time when segregation ruled the land. While derailing Sen. Joseph McCarthy's anti-communist witch hunt, he prevented a railroad and steel mill strike by threatening to nationalize their operations. Truman's last controversial presidential act was his announcement that he would not seek a second full term as president in 1952.
In 1953, Truman and his wife returned to Independence. There were two dedications in his post-presidential life. The first was the dedication of the Harry S Truman Library and Museum in September 1957. The second was the April 19, 1959, dedication of his birthplace in Lamar as the Harry S Truman Birthplace State Historic Site. Truman was there for the festivities.