America's War Hero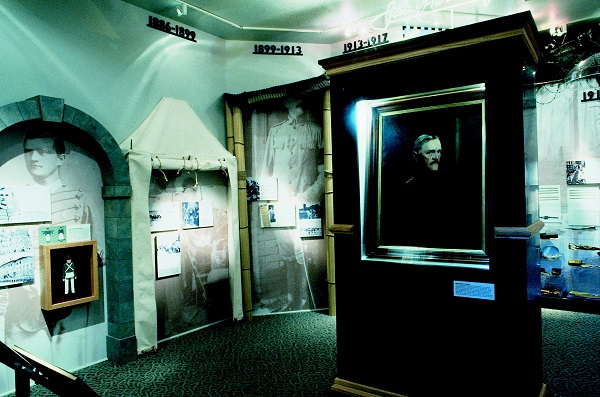 Gen. John J. Pershing Boyhood Home State Historic Site interprets the life of one of America's war heroes. His small town upbringing supplied him with a work ethic that earned him the highest military rank his country had to offer - General of the Armies of the United States.
John Joseph Pershing, throughout life known as "Jack," was born Sept. 13, 1860. The Pershing family moved into the house in Laclede when John was 6 and stayed there until 1885. There is little in Pershing's boyhood history to suggest that one day he would become a national war hero. His typical boyhood included fishing, hunting and mischief making. Chores on the family's two farms introduced him to strenuous labor early in life.
In the panic of 1873, the Pershings lost all their holdings with the exception of the home and one of the farms. John and his brother, James, gained the complete responsibility of the farm when their father took a job as a traveling salesman.
Pershing also accepted a teaching position at Prairie Mound School and eventually saved enough money to attend Kirksville Normal School (now Truman State University), where he received his teaching degree in June 1880. He returned to Prairie Mound School until the fall of 1881. It was then that Pershing saw a newspaper article concerning the competitive exam for entrance into the U.S. Military Academy at West Point. Pershing took the test on Oct. 20, 1881, qualified and was nominated to West Point, where he graduated in 1886.
Second Lt. John J. Pershing's first assignment in 1886 was with the 6th Cavalry at Fort Baynard, N.M., against the Apache Indians led by Chief Geronimo. He fought with the 6th Cavalry in 1891 on the Dakota-Nebraska border where Chief Sitting Bull was killed, and the 10th (Black) Cavalry in the Battle of San Juan Hill during the Spanish-American War in 1898.
In 1900, he was assigned to the Philippine Islands, was an observer of the Russo-Japanese War in Manchuria in 1905 and in 1906 was promoted to captain brigadier by President Theodore Roosevelt. He returned to the Philippines where, in 1909, he became governor of the Moro province, thoroughly defeating the Moros. In 1914, Pershing took command of the American forces on the Mexican border in the campaign against the revolutionary leader Francisco "Pancho" Villa.
In 1917, Pershing was sent to France as commander-in-chief of the American Expeditionary Forces in World War I. His tasks included organizing, training and supplying an inexperienced force that quickly grew to more than 2 million. In 1919, he was named the General of the Armies of the United States (one rank above five-star general) by a special act of Congress.
During his military career, Pershing was a professor at the University of Nebraska and an assistant instructor at West Point. Here, he was given the name "Black Jack" because of his previous affiliation with the black cavalry. He married Frances Warren in 1905 and had four children, three of which perished in a fire along with Mrs. Pershing in 1915. Pershing won the Pulitzer Prize for history in 1932 for his memoirs, "My Experiences in the World War." He died on July 15, 1948, and was buried in Arlington National Cemetery with highest military honors.
Today, visitors can tour Pershing's boyhood home, which was acquired by the state in 1952. It was dedicated to the memory of Gen. Pershing and to soldiers who fought under him in World War I as part of the national centennial celebration held in 1960 to honor him. Inside Prairie Mound School, a gallery allows visitors to walk through the many doorways Pershing entered throughout his early childhood life and military career. A statue of "Black Jack," sculpted by Carl Mose in the 1950s, stands by the house and is surrounded by the Wall of Honor, a semicircle of granite tablets inscribed with names of war veterans.