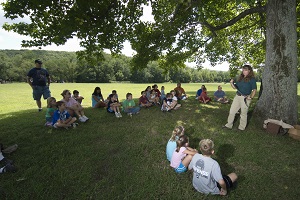 You can attend a variety of interpretive nature, recreation and leisure programs at the park. Learn about and enjoy the natural and cultural resources of the park. A popular activity, Explorer Hour, assists children and their families in achieving the Missouri State Parks and State Historic Sites Explorer Award, a colorful shoulder patch.
Programs are provided on weekends in late spring and fall, and one or more programs are available on most days during the summer months. Programs may include evening amphitheater talks, hikes into the park's wild area or natural area, demonstrations of park plants and animals, outdoors skills instruction and much more.
Call the park at 573-856-4514 or check bulletin boards upon your arrival to find out what programs or activities are being offered during your visit.
When possible, naturalist staff will also conduct interpretive activities for schools and organized civic and youth groups at the park and in nearby communities. Call the park at 573-856-4514 to arrange a scheduled visit or activity for organized groups. The interpretive program is housed in the nature/visitor center building.