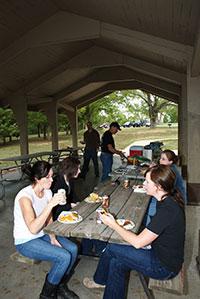 Enjoy a picnic lunch at one of the several picnic areas scattered throughout the park.
Picnic Shelters
The Billy Gilbert Memorial Shelter, located in the upper picnic area, is an open shelter that can be reserved for large picnics and special outings. The shelter is wheelchair accessible and includes four grills, electricity, running water, restrooms nearby with flush toilets and sinks, and picnic tables that can accommodate up to 80 guests. (Water and restrooms are available April 15 through Oct. 31 only.)  There is a dumpster nearby. This shelter can be reserved for $45 per day. Reservations can be made up to 12 months in advance.
The Rockbridge Mills Shelter, located along Sinkhole Trail -- about 400 feet south of the Devil's Icebox parking lot -- is used primarily for interpretive programs. It is an open shelter with picnic tables that can accommodate up to 60 guests. It has no electricity, running water or grills. Vault toilets and a dumpster are located in the parking lot. Portable grills and fires are not permitted. It is not wheelchair accessible. When not needed for interpretive purposes, this shelter can be reserved for $30 per day. Reservations can be made up to 12 months in advance.
Shelter Reservations
To reserve a shelter or check for availability, visit our reservation page* or contact the park at 573-449-7402. Both shelters, if not reserved, are available at no charge on a first-come, first-served basis. Trash cans are not provided at either shelter.
*Shelters can be reserved online from 30 days to 12 months in advance of the day of use. Reservations for arrival dates less than 30 days out can be made only by contacting the park.
The playground, which is rated for 5-to-12-year-olds, is located in the day-use area of the park at the intersection of the second loop and main park road. There are two swings, two toddler swings, two slides, platforms, a tunnel, arch climber and horizontal ladder.