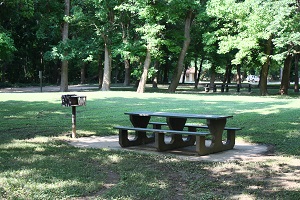 Enjoy a picnic lunch in the day-use area, which is located along the Meramec River. There are picnic tables and charcoal grills at each site.The day-use picnic areas have fire grills and recycled plastic picnic tables.
Picnic Shelter
A picnic shelter is located alongside the lake on the road to the campground. Water and electricity are available as well as charcoal grills for cooking and picnic tables. It rents for $50 per day or it is available on a first-come, first-served basis if it has not been previously reserved. It can accommodate 72 people.
Shelter Reservations
To reserve the shelter, contact the park to check for availability by calling 573-522-1860. If available, fill out the Shelter Reservation Application and mail it to the park for approval. Submission of this application does not guarantee reservation of the shelter.