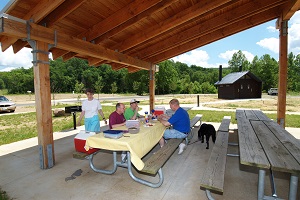 You will find ample space to spread out a picnic lunch with family and friends. The park has 15 single table picnic pads in two picnic areas, which are located on the north and south ends of the day-use area, along with numerous picnic shelters in the picnic areas and in the campground.
Picnic Shelters
The park features 14 covered picnic shelters, five of which can be reserved.
Campground Shelter
Day-Use Shelter
Enclosed Shelter (located in the day-use area)
Shelter Reservations
The shelters below can be reserved in advance. To reserve a shelter, please contact the concessionaire at 573-546-2450.
Playground equipment is located in the North Day-Use Area.