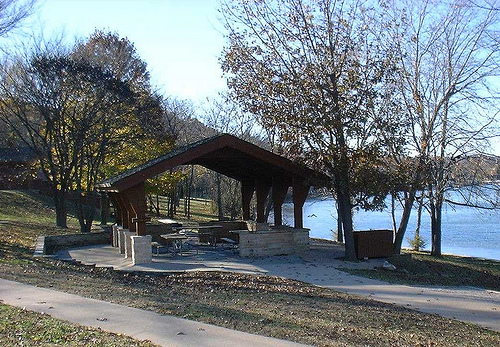 Whether your group is large or small, you will find the perfect spot for a picnic. There are 20 picnic areas scattered throughout the park available for day use.
Picnic Shelters
The park also features two picnic shelters equipped with electricity, picnic tables and an outdoor grill. The shelters are perfect for family gatherings or special outings and can be reserved for $50 per day, or if not reserved, the shelters are available on a first-come, first-serve basis at no charge.
The Lake Shelter will accommodate 60 people. It has electricity, but no drinking water is available at this site. There is a vault toilet nearby and one large barbecue grill next to the shelter, but not under roof.

The Post Office Shelter will accommodate 100 people. It has electricity and drinking water available. There is a vault toilet nearby and two large barbecue grills in the back area of the building and under roof. There is a children's playground in this area.
Shelter Reservations
To reserve a shelter, visit our reservation page, or contact the park to check for availability by calling 573-346-2986.
A playground is located in the Post Office Day-Use Area.