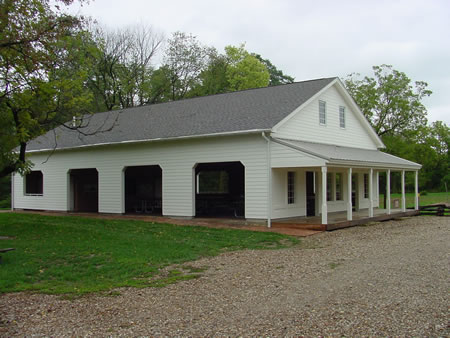 For a quiet picnic lunch or a group gathering, you can choose from three picnic areas:
The picnic area located in the historic area of the site offers a picnic shelter. See information below.
The second picnic area is located in the day-use area. Trees are plentiful and add a natural feel for your eating enjoyment. Picnic tables and small grills are available alongside the playground. The picnic sites are available on a first-come, first-served basis.
The third picnicking location is next to the lake. There are a few picnic tables and grills available for enjoying your own meal or the fish you just caught. This area is also available on a first-come, first-served basis.
Vault toilets are available in all picnic areas.
Picnic Shelter
The shelter is available for daily use and can be reserved. It accommodates up to 125 people and includes modern restrooms (available during the on-season), a large grill and a kitchen. The daily fee to reserve the shelter without use of the kitchen is $30; with the kitchen, the fee is $55.
Shelter Reservations
To reserve the shelter, contact the historic site to check for availability by calling 660-877-3871. If available, fill out the Shelter Reservation Application and mail it to the historic site for approval. Submission of this application does not guarantee reservation of the shelter. When not reserved, the shelter is available on a first-come, first-served basis. It is great for family reunions as well as other events.