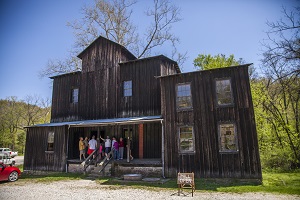 Out of caution, all planned group tours or school groups, including tours at the Missouri state Capitol, are suspended in order to avoid large congregations of people in confined areas. In addition, all indoor guided tours, including tours of historic buildings and caves, are suspended. Visitor centers, museums and nature centers remain closed until further notice.
Montauk Mill, a gristmill built in 1896, still stands today as a testament to the once-thriving community of Montauk. The mill was the last of four mills built to make use of the ideal waters of Montauk Spring. Much of the original machinery used to grind the grain is still intact.
Guided tours of the mill are temporarily suspended.
Park Hours
Weather