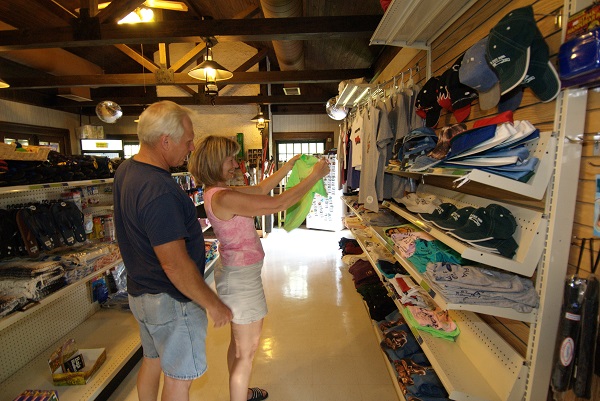 THUNDERBIRD LODGE TEMPORARILY CLOSED
For the 2019 season, Missouri Park Adventures will operate cabin check-in and watercraft rentals from the swimming pool building. Thunderbird Lodge will be closed while a restoration project gets underway. Firewood and ice can be purchased at the swimming pool location. Cabin guests and float reservations can contact Missouri Park Adventures by phone at 636-586-2995 for more information. They may also be reached through their website www.missouriparkadventures.com.
Purchase souvenirs, convenience items, ice and firewood at the park store inside Thunderbird Lodge. Lodging check-in and canoe rental are handled at Thunderbird Lodge. Visitors can reach concession staff at 636-586-2995. Thunderbird Lodge operates during the on-season (Apri lthrough October), with limited hours in the off-season (November trhough March).  Reservations and questions regarding concession operations (cabins, swimming pool and watercraft rentals) can be made by contacting concession staff at 636-586-2995 or visiting their website.
The cabins, store, swimming pool and watercraft rentals are operated by your concession hosts, Doyle and Dawn Kennon.  Let the Kennons or a member of their staff make your visit to Washington State Park more enjoyable.  For reservations or more information about the concession facilities, please call 636-586-2995 or visit their website.
Park Hours
Weather