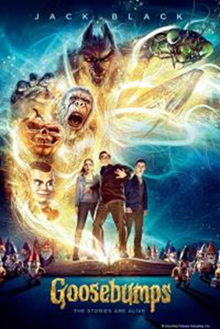 ATTENTION: Due to predicted inclement weather, the movie night portion of this event has been postponed to Saturday, Oct. 9 at 7 p.m. The public meeting and toolbox activity will still occur as planned.
This year, we will combine our annual public meeting with a Halloween movie night. This is your chance to hear what's going on at the park and give feedback. Kids will get a chance to build a garden/toolbox for their parents, and then the whole family can enjoy the spooky movie "Goosebumps" from Columbia Pictures.
5:30 p.m.
Annual public meeting -- Staff will be on hand to provide information about Battle of Pilot Knob State Historic Site and Elephant Rocks State Park and answer questions. The meeting will take place at the day-use pavilion. The public is strongly encouraged to follow social-distancing guidelines and be proactive in protecting themselves and others.
6 p.m.
Kids who attend the public meeting with their parents get to build a wooden garden/toolbox for their parents.
7 p.m. -- feature movie
ATTENTION: Due to predicted inclement weather, the movie showing has been postponed to Saturday, Oct. 9 at 7 p.m. It will still take place in the historic site's day-use area.
This is an outdoor event at the Battle of Pilot Knob day-use area, so dress for the weather and bring lawn chairs or blankets to sit on. For more information, call Bryan or Brick at 573-546-3454.
Film Synopsis
Jack Black stars as acclaimed "Goosebumps" writer R.L. Stine in this feature-film adaptation of the popular young adult book series. A teenager named Zach (Dylan Minnette) reluctantly moves from New York City to the quiet town of Madison, Delaware, where he quickly realizes that his reclusive new neighbor is in fact the horror author of the "Goosebumps" series. Zach learns Stine's identity when he is drawn to the writer's daughter Hanna (Odeya Rush), but soon discovers the dangerous secret inside their home – the creatures from Stine's famous stories are real, and are kept locked away inside their original manuscripts. After an accident frees the monsters, Zach, Hannah and their nerdy pal Champ (Ryan Lee) must work together with Stine to save their town from destruction.
Click here for a complete list of fall fun events in Missouri State Parks.
Battle of Pilot Knob State Historic Site is located at:
118 E. Maple, Pilot Knob, MO | 573-546-3454