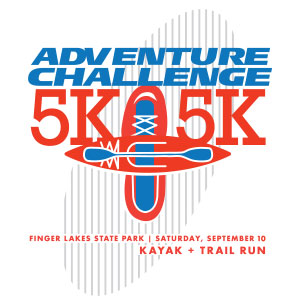 Join us for the Third Annual Finger Lakes Adventure Challenge, where your first challenge will be to kayak the water course in Peabody Lake. You will get into your boat for a 5K paddle on the water trail that winds through the length of the park. Return back to the start and take off on foot for a 5K run on the Kelley Branch Mountain Bike Trail. The trail will lead you through the wetlands of Kelley Branch Creek then along the ridges and pits of the reclaimed strip mine. Refreshments will be available after the race. All finishers will receive a participant medal. Top overall male and female finisher will receive a prize.
Race time: 9 a.m.
For more information on or to register for this event or any of the Missouri State Parks Racing Series events, click here.
Finger Lakes State Parks is located at:
Click here for information about previous races at the park.
1505 E. Peabody Road, Columbia, MO | 573-443-5315