Park Trails
Paved Trail
Bicycling/Mountain Biking

Hiking
Trail Rating: Moderate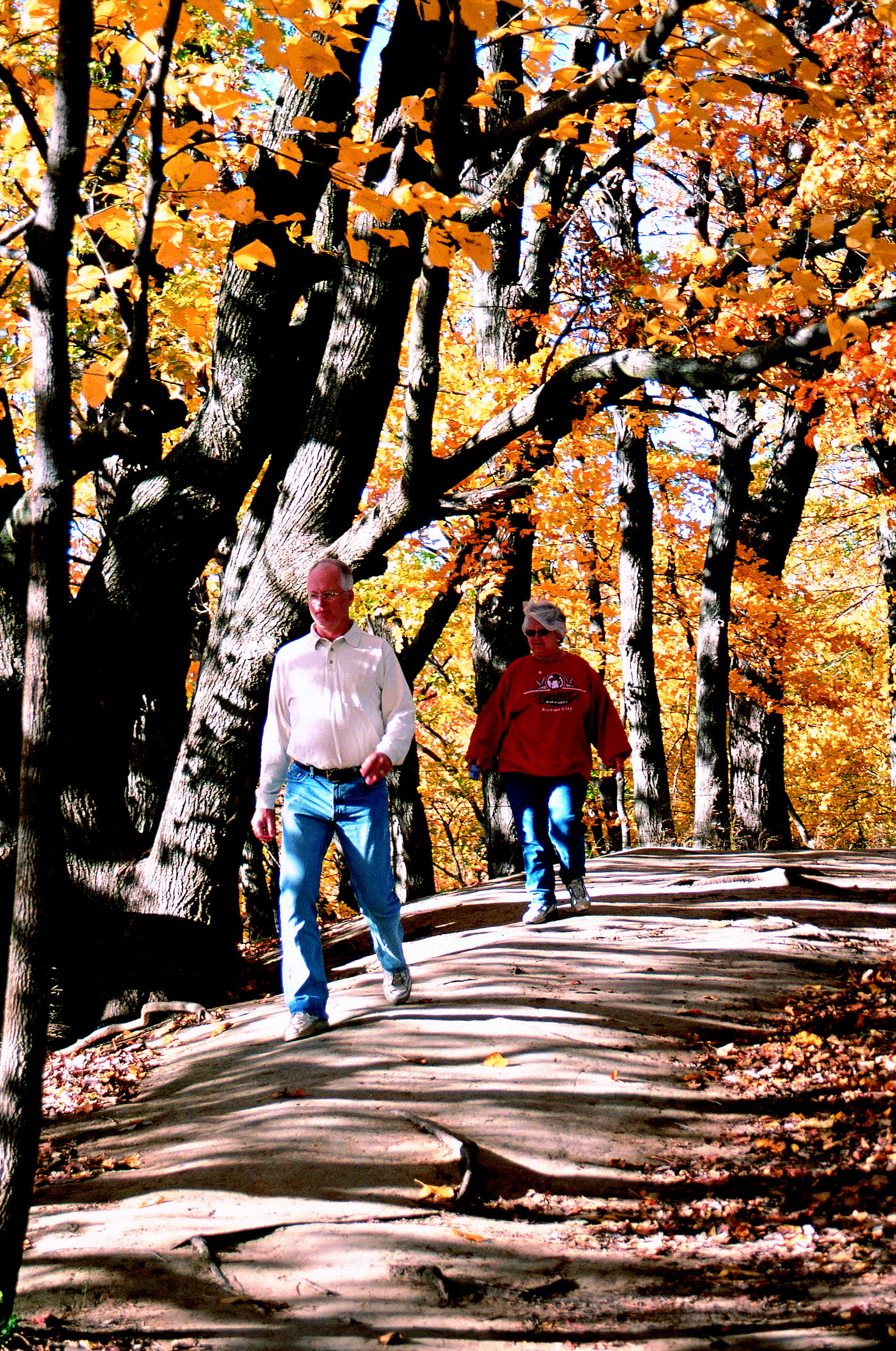 Paved Bicycle Trail has an asphalt surface and is very popular with both hikers and bicyclists. If traveling in a counter clockwise direction, the trail goes through a section of mature river hills hardwood forest, complete with pawpaws, white oaks, sycamores and more. The second half of the trail gradually climbs back to the starting point and travels through a stand of maple trees that gives way to old farm fields. These have been reverting to cedar trees and a mix of prairie grasses, wildflowers and shrubs. This area offers a good lesson in plant succession. There are no natural obstacles except for a few steep grades in one section of the trail.
The 0.30-mile natural surface access spur begins at the Historic Tobacco Barn Day-use Area and is a short, easy way to connect to Paved Trail. The day-use area also offers additional parking if the main trailhead parking is full. For hikers and bikers already on the Paved Trail, the spur leads to the park's important cultural feature, the historic tobacco barn. 
You may experience:
Slippery conditions and/or downed vegetation
Steep grades and inclines more than 10 percent
Bridges and/or structural crossings
| Length | Estimated Hiking Time | Type | Blazes | Trailhead |
| --- | --- | --- | --- | --- |
| 2.75 Miles | 1 hour, 25 minutes | Loop | Green | At the first parking area past the park office/check station |
Weston Bluffs Trail
Bicycling/Mountain Biking

Hiking
Trail Rating: Easy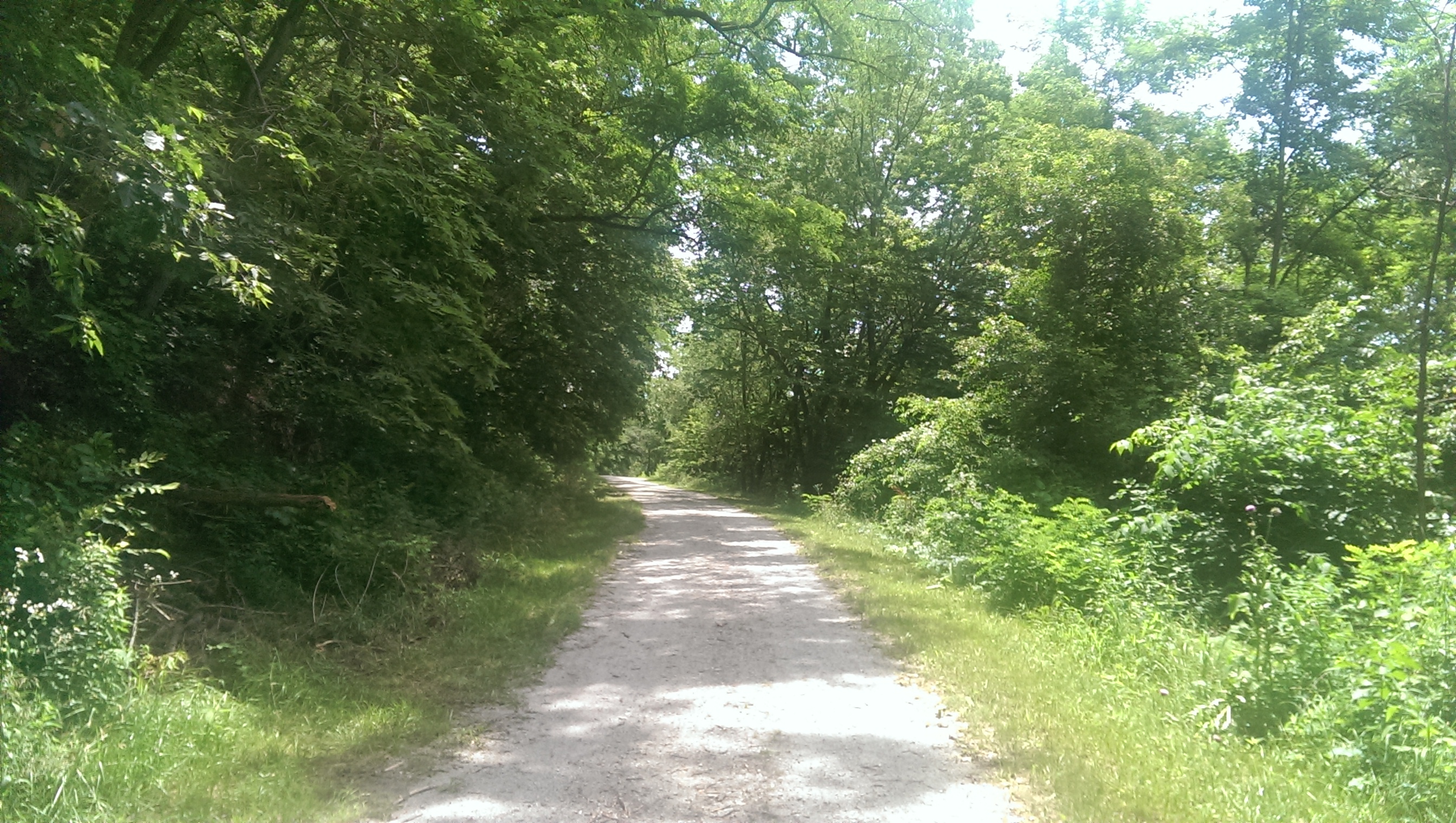 Weston Bluffs Trail follows the western border of the park and runs parallel to the Missouri River and Burlington Northern Railway. This trail is popular with hikers and bicyclists looking for a pleasant, non-strenuous outing. Along with occasional glimpses of the Missouri River, it is possible to see migrating birds and waterfowl.
The trail connects the state park with the city of Weston on the north and with the village of Beverly to the south. From the park's picnic area, it is 1.25 miles to Weston and 2 miles to the trailhead near Beverly. With the trail's direct connection to downtown Weston, this trail is often used by park visitors wishing to make a trek to shop or dine in town without taking a motor vehicle.  The north half of the trail is paved with asphalt while the southern half is a fine gravel surface. Although generally flat, there are gentle grades and changes of elevation.
White Connector 1 (0.20 miles) links the West Ridge and Harpst trails to Weston Bluffs Trail. The connector takes hikers from the scenic bluffs above the Missouri River on the West Ridge/Harpst trails down to Weston Bluffs Trail that follows the park's western border and parallels the Missouri River and the Burlington Northern Railway.
You may experience:
Slippery conditions and/or downed vegetation
Natural surface, dirt, mud, gravel, shifting rocks, slippery surface, etc.
Bridges and/or structural crossings
Water/stream crossings without bridges
| Length | Estimated Hiking Time | Type | Blazes | Trailhead |
| --- | --- | --- | --- | --- |
| 3.25 Miles | 1 hour, 40 minutes one way | Linear | Brown | 1) Near the Weston Bluffs Picnic Area; 2) In the city of Weston on Welt Street; 3) In the village of Beverly on South Bluff Street |