Park Trails
Rockywood Trail
Trail Rating: Rugged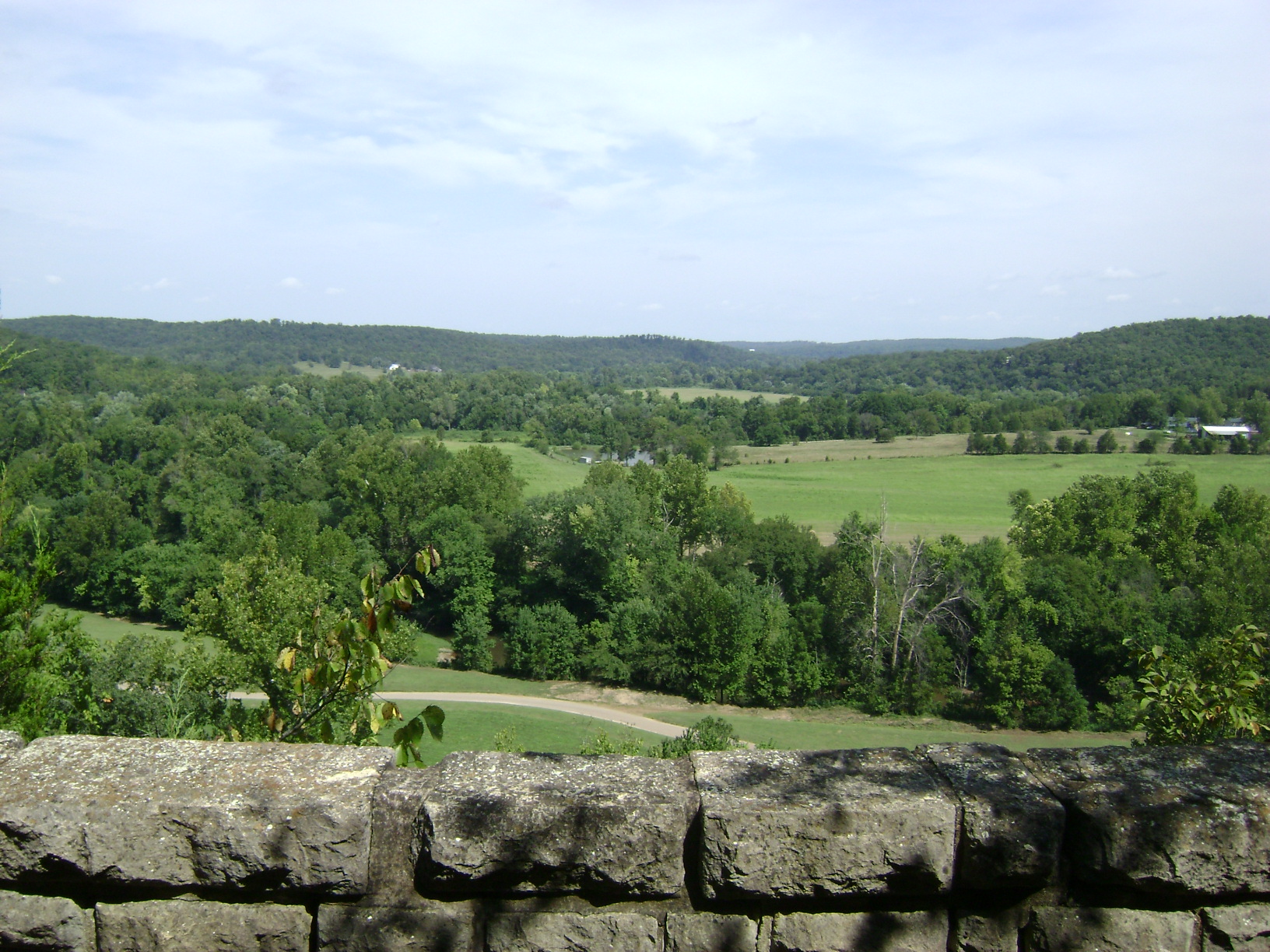 Rockywood Trail provides a glimpse of the other two trails in the park, Opossum Track and 1000 Steps, as it joins each of these trails for a time as it winds its way through the park's oak/hickory wooded hills. The trail also traverses a section of the 68-acre Washington State Park Hardwood Natural Area, an area of land set aside for protection because of its natural beauty. 
Several glades are present along the trail, and hikers may notice evidence of fire in these areas. This is part of an ongoing glade management program that has helped restore these glades to their historic nature. It is common to spot a Missouri tarantula darting across the trail. Colorful glade wildflowers that sprout from the rocky terrain each spring include milkweed, prickly pear cactus and coneflowers. Rockywood Trail also passes by a quarry (behind the campground) that provided the Civilian Conservation Corps workers with the stone used to build many of the park's historic structures.
A backpack camp is located about a third of the way along the trail.  No amenities are provided at the camp and there is no fee to backpack camp. Hikers are asked to "leave no trace" when using the backpack camp and no fires are allowed. The backpack camp site cannot be reserved and is on a first-come first-serve basis. The backpack camp site on the Rockywood Trail is the only location where backpack camping is allowed. Backpackers should register at the trail registration box at the Thunderbird Lodge bulletin board (near the trailhead) prior to beginning their hike. Trail maps are located at the bulletin board as well. More information on the trail and backpack camp can be obtained at the park office.
Along the trail, hikers may encounter slippery conditions, rocks and roots sticking up in the trail's natural surface, steep grades, and creek crossings without bridges.
You may experience:
Natural surface, dirt, mud, gravel, shifting rocks, slippery surface, etc.
Rocks, roots and/or downed vegetation on trail        
Physically challenging obstacles
Wood or stone steps
Steep grades and inclines more than 10 percent
Bluffs or drop-offs next to trail
Bridges and/or structural crossings
Water/stream crossings without bridges
Occasional water over trail
Road/highway crossing
| Length | Estimated Hiking Time | Type | Blazes | Trailhead |
| --- | --- | --- | --- | --- |
| 6 Miles | 6 hours | Loop | Orange | Behind Thunderbird Lodge; follow steps by the back door of the lodge |