Park Trails
Spice Bush Trail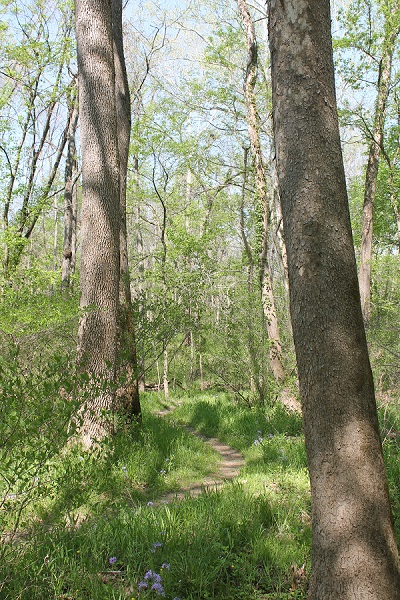 Trail Rating: Moderate
Spice Bush Trail travels through the Meramec River's floodplain along slightly elevated terraces to the nearby level woodland floor where red-headed woodpeckers frequently feed and often nests. In late April, bluebells bloom in profusion along much of this hiking trail. Along the journey, three bridges cross a perennial stream but after a good rain, other small drainages can make it a wet and slippery hike. The trail passes through a rich bottomland area with a mixed herbaceous ground cover below tall sycamore, ash, pawpaw and black cherry trees. The dominant underbrush is spice bush, which gives the trail its name.
You may experience:
Natural surface, dirt, mud, gravel, shifting rocks, slippery surface, etc.
Rocks, roots and/or downed vegetation on trail        
Wood or stone steps
Bluffs or drop-offs next to trail
Bridges and/or structural crossings
Occasional water over trail
| Length | Estimated Hiking Time | Type | Blazes | Trailhead |
| --- | --- | --- | --- | --- |
| .80 Mile | 35 minutes | Loop | Yellow | Off the main park road on the left just passed the picnic area |
Lost Hill Trail
Trail Rating: Moderate
Lost Hill Trail winds through the only uplands in the park. "Lost Hill" received its name from the upland hill that has been detached from other ridges or uplands by erosion. The woodlands along the trail contain a mix of plants adapted to the dry rocky soils as well as areas with more lush vegetation. Hiking the north side of the trail provides an excellent view of an old oxbow slough of Calvey Creek, and extend down into the bottomlands surrounded by pawpaw trees. The two trailheads provide a great connection between the campground and Spicebush Trail.
You may experience:
Natural surface, dirt, mud, gravel, shifting rocks, slippery surface, etc.
Rocks, roots and/or downed vegetation on trail        
Steep grades and inclines more than 10 percent
Water/stream crossing without bridges
Lost Hill Trail
Length
Estimated Hiking Time
Type
Blazes
Trailhead
2.6 miles
2 hours
Loop
Red
1. North of park office along main park road near Spice Bush Trail trailhead; 2. In the campground near the special-use area